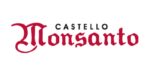 The Bianchi family is the beating heart around which Castello di Monsanto has developed over more than half a century, leaving an indelible mark in the history of Chianti Classico and helping to forge a future path.
Castello di Monsanto has long been an influential producer, becoming one of the best-known wineries in a region steeped in tradition and admired the world over. Its physical roots are built into the rock of the local land – yet the values that provide its spiritual home are no less solid.
The most important Sangiovese growing area in Italy, Chianti Classico owes its wine fame not just to its ability to produce great wines, but also to the infinite different facets those wines possess – the result of the variations in soil and climate between the different parts of the area. Viewing this diversity as a source of richness and added value, Monsanto's philosophy rests on the idea that a Chianti must never lose its authentic character – they must be uniquely Italian and elegantly gastronomic.
At the same time, one of the objectives of the company and of many other producers is to make the local variations even clearer by ensuring that subareas are included on labels.