Unveiling the Essence of Castello Romitorio 'Romito' Rosso IGT 2016
Discover the Multifaceted Splendor of 'Romito' Rosso IGT
In the realm of exquisite Italian wines, Castello Romitorio 'Romito' Rosso IGT 2016 stands tall as an exceptional masterpiece. With its profound complexity and captivating allure, this wine weaves a story of passion, tradition, and the vibrant essence of Montalcino terroir. Embark on a sensory journey as we delve into the depths of this remarkable vintage, uncovering its enticing aromas, velvety texture, and tantalizing flavors.
A Tapestry of Aromas: Unveiling the Dark Core
Elegant Fragrances and a Dazzling Ruby Edge
As you embrace a glass of Castello Romitorio 'Romito' Rosso IGT 2016, an enchanting array of aromas envelops your senses. The wine reveals a dark core with a brilliant ruby edge, painting a vivid picture of its character. Inhale deeply, and you'll be greeted by the delicate essence of dried rose petals, their subtle sweetness mingling with the air. Ripe red fruits beckon with their inviting allure, while balsamic oak notes add depth and intrigue to the symphony of scents.
Medium Intense Spices: The Harmonious Backdrop
Within the intricate tapestry of fragrances, medium intense spices add a touch of allure. As they dance gracefully in the air, they enhance the aromatic experience, lending a captivating backdrop to the elegant bouquet. These spices contribute to the overall balance and complexity, showcasing the meticulous craftsmanship behind Castello Romitorio 'Romito' Rosso IGT 2016.
The Montalcino Terroir: A Multilayered Expression
A Journey through the Earth's Essence
The Montalcino terroir serves as the soul of Castello Romitorio 'Romito' Rosso IGT 2016, infusing the wine with a distinct and well-balanced earthiness. With every sip, you embark on a journey through the rich soils of Montalcino, experiencing the terroir's intricate nuances and character. Each layer of earth notes unfolds gracefully, weaving together to create a tapestry of flavors that reflect the land from which this exceptional vintage originates.
A Symphony of Flavors: From Silky Entrances to Spicy Finales
Silky and Velvety: An Enchanting Prelude
As the wine graces your palate, you'll encounter a silky and velvety entrance that captivates your taste buds. The texture is luxuriously smooth, inviting you to explore further. Castello Romitorio 'Romito' Rosso IGT 2016 reveals its true essence with every sip, guiding you deeper into a world of captivating flavors.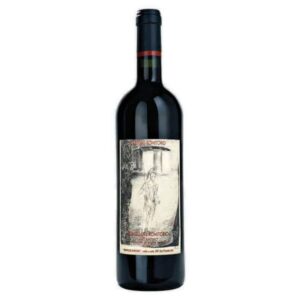 An Orchestra of Tastes: Chocolate, Tar, and Dried Fruit
Among the myriad of flavors, the wine unveils the seductive charm of chocolate and tar characters. These elements provide an intriguing contrast, evoking a sense of depth and complexity. As the symphony of tastes continues to unfold, dried fruits make their entrance, intermingling harmoniously with juniper berry and ripe red fruit. The wine tantalizes the palate, each flavor complementing the next with finesse and precision.
Spicy Finale: The Grand Crescendo
The crescendo of flavors reaches its climax with a long and spicy finish, leaving a lasting impression on your palate. The spices make their presence known, adding a touch of warmth and complexity to the wine's final act. As you savor the lingering notes, you'll relish in the symphony that Castello Romitorio 'Romito' Rosso IGT 2016 has performed, an unforgettable experience that lingers long after the final sip.
The Enchanting Tale of Castello Romitorio 'Romito' Rosso IGT 2016
A Testament to Craftsmanship and Terroir
Castello Romitorio 'Romito' Rosso IGT 2016 is a true testament to the artistry of winemaking and the unique expression of Montalcino terroir. With its captivating aromas, velvety texture, and vibrant flavors, this exceptional vintage invites you to embark on a journey of the senses. Each sip unravels a new chapter in the story, enchanting you with its complexity and finesse. Whether you are a wine connoisseur or an avid enthusiast, allow yourself to be captivated by the allure of Castello Romitorio 'Romito' Rosso IGT 2016—a wine that embodies the essence of passion, tradition, and the rich heritage of Italian winemaking.