Cordillera Chardonnay 2022: A Captivating Symphony of Flavors
Discover the Exquisite Charm of Cordillera Chardonnay 2022
Indulge your senses in the world of Cordillera Chardonnay 2022, an extraordinary wine that captivates both newcomers and seasoned wine enthusiasts alike. With its fresh, fruity aroma dominated by peach, white plum, and grapefruit notes, this exceptional vintage embodies the essence of refinement and elegance. Let us take you on a journey through the lush vineyards and meticulous craftsmanship that make Cordillera Chardonnay 2022 an enchanting masterpiece.
Unveiling the Aromas
Aromatic Bliss: Peach, White Plum, and Grapefruit Dance Together
At the heart of Cordillera Chardonnay 2022 lies an irresistible bouquet that tantalizes the senses. As you raise your glass, the air becomes infused with the captivating fragrance of ripe peaches, luscious white plums, and zesty grapefruit. These delightful aromas intertwine harmoniously, enveloping you in a symphony of scents that foretell the captivating journey your taste buds are about to embark upon.
A Palate of Sublime Delights
Toasted Hazelnut Delicately Balanced with Subtle Minerals
With every sip of Cordillera Chardonnay 2022, your palate is greeted by a refined dance of flavors. The silky smooth texture caresses your tongue as notes of toasted hazelnut gently unfold, adding a layer of sophistication to the wine's profile. The delicate presence of minerals further enhances the experience, creating a perfectly balanced symphony of taste that lingers on your palate.
Embracing Opulence
Abundance of Volume, Elegance, and Lasting Rich Fruity Aromas
Cordillera Chardonnay 2022 boasts a luxurious and opulent character that is sure to delight even the most discerning wine connoisseurs. As the wine envelops your mouth, you'll be met with an abundance of volume, creating a truly immersive experience. The elegant acidity adds a delightful freshness, ensuring each sip is a delight for your taste buds. The rich fruity aromas persist, revealing layer after layer of complexity and leaving a lasting impression that will tempt you to savor the moment.
The Grand Finale
A Fresh and Pleasant Aftertaste That Beckons for More
As the symphony of flavors gradually subsides, Cordillera Chardonnay 2022 bids farewell with a grand finale—a fresh and pleasant aftertaste that gently lingers on your palate. This exquisite ending is a testament to the craftsmanship and artistry that has gone into every bottle of Cordillera Chardonnay 2022. Its harmonious blend of flavors leaves you yearning for another sip, beckoning you to embark on this enchanting journey once again.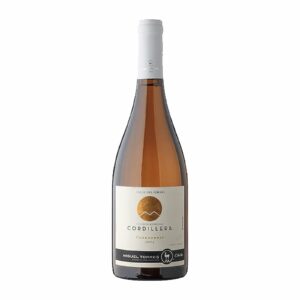 Elevate Your Wine Experience with Cordillera Chardonnay 2022
Cordillera Chardonnay 2022 is more than just a wine; it's an extraordinary sensory adventure that elevates your wine experience to new heights. With its captivating aromas, sublime flavors, and lingering aftertaste, this exceptional vintage stands as a testament to the artistry and dedication of the Wine Maven. Embark on a journey of refined elegance and immerse yourself in the enchanting world of Cordillera Chardonnay 2022—a symphony of flavors that will leave you yearning for more.
Experience the brilliance of Cordillera Chardonnay 2022 today and unlock a world of unparalleled taste.