[vc_row][vc_column width="1/2″][vc_column_text woodmart_inline="no" text_larger="no"]
The Enchanting Journey of Escarpment Pinot Noir Martinborough 2018
Unveiling the Elegance and Complexity of Escarpment Pinot Noir Martinborough
Welcome to the captivating world of Escarpment Pinot Noir Martinborough 2018, where perfume, elegant fruit flavours, and soft ripe tannins intertwine to create an exceptional wine experience. As we embark on this delightful journey, let us explore the distinct characteristics that make this Pinot Noir truly extraordinary.
The Essence of Escarpment Pinot Noir Martinborough 2018
A Symphony of Flavours: Black, Red, and Green Fruit Infusion
Picture yourself amidst the enchanting vineyards of Martinborough during a typical summer. It is here that the Escarpment style is born, revealing its complexity, attractive texture, and the perfect amalgamation of black, red, and green fruit flavours that Pinot Noir is renowned for. Each sip of Escarpment Pinot Noir Martinborough 2018 tells a story of nature's bounty and winemaking expertise.
Crafted with Dedication: Meticulous Hand Harvesting and Gentle Handling
At Escarpment, the pursuit of excellence begins in the vineyard. The precious fruit is carefully hand-harvested to ensure only the finest grapes make their way into this remarkable Pinot Noir. Gentle handling, without any pumping, preserves the delicate aromas and flavours, allowing the wine to unfold its true essence.
A Dance with Time: Maceration and Maturation
To achieve optimal character and depth, the hand-plunging process comes into play. Every 12 hours, skilled hands immerse themselves in the artistry of winemaking, ensuring the skins and juice interact harmoniously. This meticulous dance on the palate creates an average vat time of 18 days, allowing the wine to develop its beautiful complexities.
Escarpment Pinot Noir Martinborough 2018 then embraces a patient period of aging, spending 11 months exclusively in French oak barriques. Of these, 25 barrels are new, infusing the wine with subtle nuances and gentle whispers of oak. This homage to traditional winemaking techniques imparts depth and structure, elevating the wine to its fullest potential.[/vc_column_text][/vc_column][vc_column width="1/2″][vc_column_text woodmart_inline="no" text_larger="no"]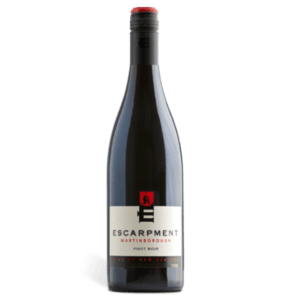 The Influence of Terroir: A Love Letter to Martinborough
Inspired by the classic wines of Burgundy, Escarpment Pinot Noir Martinborough 2018 pays homage to the unique terroir of Martinborough. Nestled in the heart of New Zealand's North Island, this region boasts cool-climate conditions and diverse soils. It is this very environment that shapes the wine, offering a distinctive character that is truly one of a kind.
Embrace the Future: Cellaring Escarpment Pinot Noir Martinborough
A Wine to Treasure: Cellaring Potential for up to 10 Years
As you revel in the enchantment of Escarpment Pinot Noir Martinborough 2018, you will discover its age-worthiness. This exceptional wine is destined to gracefully cellar for up to a decade, allowing its flavors to evolve and mature with time. Each passing year will unveil new dimensions, inviting you to embark on an ever-evolving journey of taste and pleasure.
Unleash Your Senses with Escarpment Pinot Noir Martinborough 2018
The Epitome of Pinot Noir Excellence
In the realm of exceptional Pinot Noir, Escarpment Pinot Noir Martinborough 2018 reigns supreme. Its alluring perfume, elegant fruit flavors, and velvety tannins transport you to the vineyards of Martinborough, where nature's artistry and meticulous craftsmanship merge in perfect harmony. Savour this distinctive wine, celebrate its unique terroir, and let it weave a tale of enchantment with every sip.[/vc_column_text][/vc_column][/vc_row]