Discover the Richness of Falesco Montiano Merlot 2015
Unveiling the Allure of Falesco Montiano Merlot
Embark on a delightful journey of the senses with Falesco Montiano Merlot 2015. This exceptional wine showcases the craftsmanship and passion of Italian winemaking. With its deep, ruby red color and captivating aromas, Falesco Montiano Merlot is a true masterpiece that demands attention. Let us explore the remarkable characteristics of this wine and uncover the facts that make it a standout choice for wine enthusiasts.
Captivating Aromas and a Tapestry of Flavors
An Enchanting Bouquet of Aromas
Falesco Montiano Merlot 2015 captivates from the very first whiff. The wine presents a wide aromatic range that entices the senses. Aromas of vanilla create a comforting embrace, complemented by the delightful presence of small red fruits. Layers of jam and sweet spices add depth and complexity, elevating the olfactory experience to new heights. These scents harmonize and intertwine, creating a symphony of fragrances that sets the stage for the sensory delight to come.
A Tapestry of Flavors that Delights the Palate
The taste of Falesco Montiano Merlot 2015 is equally enchanting. This wine embodies the signature characteristics of Merlot, offering a full-bodied roundness and softness that are sure to please. The flavors gracefully unfold on the palate, displaying a remarkable balance of elegance and richness. Each sip reveals the artistry and meticulousness of Falesco's winemaking process, leaving a lasting impression. The wine's agreeable and lingering flavors are a testament to its exceptional quality and the dedication invested in its creation.
The Craftsmanship of Falesco Montiano Merlot 2015
A Journey of Passion and Dedication
Falesco Montiano Merlot 2015 is the result of the passion and dedication that define the Falesco winery. Situated in the heart of Umbria, Italy, this renowned winery has upheld the traditions of winemaking for generations. The meticulous craftsmanship and attention to detail are evident in every aspect of Falesco Montiano Merlot. From the vineyard to the cellar, every step of the winemaking process is guided by a commitment to excellence and a deep respect for the land.
A Symphony of Soil and Climate
The terroir of Umbria provides a perfect environment for cultivating Merlot grapes, and Falesco Montiano Merlot 2015 reflects this harmonious collaboration between nature and winemakers. The region's sun-drenched vineyards and gentle breezes infuse the grapes with a complexity and richness that are truly remarkable. The unique combination of soil and climate imparts distinct characteristics to the wine, contributing to its exceptional quality and distinct personality.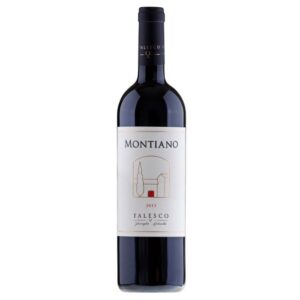 Unlocking the Magic: Pairings and Occasions
A Versatile Companion to Culinary Delights
Falesco Montiano Merlot 2015 is a versatile wine that complements a wide range of culinary delights. Its robustness and elegance make it an ideal pairing for various dishes. Consider savoring this wine alongside a succulent roast lamb, roasted to perfection and accompanied by an assortment of roasted vegetables. The wine's depth and layered flavors beautifully complement the tender meat, while its softness balances the earthy sweetness of the vegetables. Whether you are hosting an intimate dinner party or enjoying a casual meal, Falesco Montiano Merlot is sure to elevate your dining experience.
Creating Timeless Memories
Beyond its gastronomic qualities, Falesco Montiano Merlot 2015 has the power to create enduring memories. Imagine sharing a bottle of this exceptional wine with loved ones, gathered around a crackling fire on a cool evening. The captivating aromas and enchanting flavors become the backdrop for heartfelt conversations and cherished moments. Falesco Montiano Merlot has the ability to transform ordinary occasions into extraordinary memories, making it the perfect choice for special celebrations and cherished gatherings.
Embark on a Journey of Enchantment
An Italian Masterpiece
Falesco Montiano Merlot 2015 is an Italian masterpiece that showcases the expertise and artistry of Falesco's winemaking. From its captivating aromas to its velvety textures, this wine encapsulates the essence of Italian craftsmanship. With each sip, you embark on a journey of enchantment, immersing yourself in the rich flavors and captivating aromas that define this exceptional wine. Raise your glass and let Falesco Montiano Merlot 2015 transport you to the rolling hills of Umbria, where the magic of winemaking unfolds with every bottle.