Discover the Allure of Guado al Tasso Matarocchio 2015: A Journey of Richness and Complexity
When it comes to exceptional wines, the name 'Guado al Tasso Matarocchio' stands tall, captivating both connoisseurs and enthusiasts alike. Among the myriad of vintages, the Guado al Tasso Matarocchio 2015 holds a special place, offering an extraordinary sensory experience that transcends boundaries. This remarkable wine entices the palate with its intense flavors and distinctive character, leaving an indelible impression that lingers long after the final sip. Join us as we delve into the enchanting world of Guado al Tasso Matarocchio 2015, where passion, craftsmanship, and nature intertwine harmoniously.
Unveiling the Sensory Symphony
A Symphony of Aromas: Chocolate, Blackcurrants, and Blackberries
At the heart of Guado al Tasso Matarocchio 2015 lies a captivating nose, unraveled by the most discerning of senses. With each inhalation, the air becomes saturated with a symphony of aromas, enveloping the atmosphere with a tantalizing invitation. The pronounced notes of luscious chocolate instantly captivate, infusing an element of indulgence into the wine's olfactory profile. Harmoniously joining the chocolate are the alluring scents of ripe blackcurrants and blackberries, imparting a burst of fruity richness. These varietal aromas lend a distinct personality to the wine, setting it apart from its counterparts and promising an unrivaled tasting experience.
A Tapestry of Richness: Silky and Deep on the Palate
As the elixir cascades onto the palate, Guado al Tasso Matarocchio 2015 unveils its true essence—a tapestry of richness that leaves an everlasting mark. The first sip embraces the senses with a luxurious silkiness, a velvety texture that gracefully coats the mouth. It glides effortlessly, accentuating the wine's depth and complexity. With each passing moment, the flavors unfurl, revealing a symphony of intricate nuances that dance harmoniously on the tongue. The lingering finish is a testament to the wine's pedigree, gracefully bidding adieu with a crescendo of flavors that continue to echo long after the glass is empty.
The Story Behind Guado al Tasso Matarocchio 2015
A Legacy Forged in Bolgheri's Soil
The tale of Guado al Tasso Matarocchio 2015 begins amidst the rolling hills and sun-kissed vineyards of Bolgheri, a renowned winemaking region in Tuscany, Italy. Nestled within this picturesque landscape, the Guado al Tasso estate thrives, nurturing its vines with meticulous care and devotion. Bolgheri's unique microclimate, characterized by cooling Mediterranean breezes and sun-drenched days, bestows upon the grapes an exceptional terroir, enabling them to flourish with unparalleled vitality.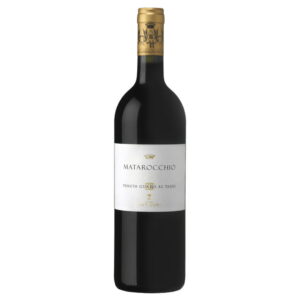 Craftsmanship and Dedication: A Perfect Union
At the heart of Guado al Tasso Matarocchio 2015 lies a profound dedication to the art of winemaking. Guided by generations of expertise, the winemakers at Guado al Tasso meticulously handpick the finest Cabernet Franc grapes for this exceptional vintage. Each cluster undergoes a rigorous selection process, ensuring that only the grapes of the highest quality find their way into the wine's creation. This unwavering commitment to excellence shines through in every sip, elevating Guado al Tasso Matarocchio 2015 to the pinnacle of winemaking achievement.
Elevate Your Wine Experience with Guado al Tasso Matarocchio 2015
Guado al Tasso Matarocchio 2015 is more than just a wine; it's an invitation to embark on a journey of unparalleled richness, complexity, and indulgence. From the moment the enticing aromas embrace your senses to the final, lingering echoes of its remarkable finish, this wine captivates with its unique personality and exceptional character. Let Guado al Tasso Matarocchio 2015 be your companion on special occasions, intimate gatherings, or moments of self-indulgence, and allow yourself to be transported to the sun-soaked vineyards of Bolgheri, where passion and craftsmanship unite to create an unrivaled sensory symphony. Immerse yourself in the world of Guado al Tasso Matarocchio 2015, and let its allure awaken your taste buds to a new realm of wine appreciation.