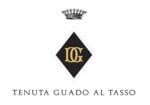 Expression of Bolgheri Terroir
Tenuta Guado al Tasso is located in the small but prestigious Bolgheri DOC, on the coast of upper Maremma, about one hundred kilometers southwest from Florence.
This appellation has a relatively recent history, DOC Bolgheri was approved in 1994 and since then it has become an internationally recognized reference point for the Italian and international winemaking arena.
The estate covers an area of about 320 hectares (790 acres) planted with vines, set in a beautiful plain encircled by rolling hillsides known as the "Bolgheri Amphitheatre" due to its particular shape.
History
The noble Della Gherardesca family began practicing viticulture in the late 1600's on their land in Bolgheri, but things really began to change under the guidance of Guido Alberto Della Gherardesca (1780-1854).
He was a passionate about viticulture. He was appointed majordomo of Grand Duke Leopold II and then dedicated himself to enology in his family's land in Maremma.
In the 1930's, the property was inherited by Carlotta Della Gherardesca Antinori (Piero Antinori's mother) and her sister who was married to Mario Incisa Della Rocchetta (who received the nearby Tenuta San Guido).