Unveiling the Enchanting Elixir: Louis Latour Meursault 2018
Picture yourself in the rolling hills of Burgundy, where the sun-kissed vineyards give birth to a mesmerizing nectar known as Louis Latour Meursault. This extraordinary wine, crafted with precision and passion by the esteemed Maison Louis Latour, has captured the hearts of connoisseurs and casual enthusiasts alike. Today, I invite you on a sensorial journey, as we explore the captivating nuances of Louis Latour Meursault 2018, a true masterpiece of elegance and finesse.
The Symphony of Senses Unveiled
A Glimpse of Gold: Pale Yellow Allure
At first glance, Louis Latour Meursault 2018 presents itself with a stunning pale yellow hue, reminiscent of sunlight filtering through a canopy of leaves. This captivating visual delight sets the stage for the symphony of aromas and flavors that awaits.
The Aroma: Citrus Symphony and Toasted Intrigue
Inhale deeply, and you will be greeted by a complex bouquet that dances delicately upon the air. The nose of Louis Latour Meursault 2018 is a vibrant symphony of citrus notes, with the enchanting fragrance of candied lemons leading the way. As the aromas unfold, the interplay of fresh butter and toasted bread adds a touch of indulgence, reminiscent of a warm bakery on a crisp morning.
A Harmonious Palate: Balancing Act of Hazelnuts
As the velvety elixir caresses your tongue, the true essence of Louis Latour Meursault 2018 unfolds. With each sip, the well-balanced nature of this wine reveals itself. Fresh hazelnut flavors delicately dance upon the palate, leaving a lingering trail of creamy elegance. The interplay of citrus and toasted notes continues to enchant, adding depth and character to this remarkable experience.
The Grand Finale: Mineral Tension
Just as every story reaches its climactic conclusion, so too does the journey of Louis Latour Meursault 2018. The grand finale is marked by a captivating mineral tension that delicately lingers on the palate. This distinct characteristic, akin to the touch of Burgundy's terroir, leaves a lasting impression, inviting you to take another sip and discover the ever-unfolding layers of this enchanting wine.
A Tale to be Shared
In the Company of Good Friends
Imagine a gathering of dear friends, the clinking of glasses, and the sound of joyous laughter filling the air. As you share the story of Louis Latour Meursault 2018, the conversation flows effortlessly, guided by the shared appreciation for exceptional craftsmanship and the pleasure derived from savoring life's finest offerings.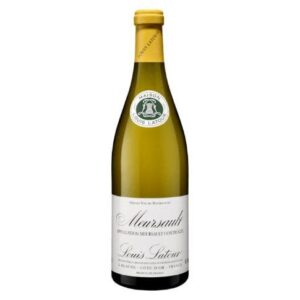 Culinary Bliss Unleashed
Indulge your senses and elevate your dining experiences with the perfect culinary companion, Louis Latour Meursault 2018. Its versatility knows no bounds, effortlessly harmonizing with a variety of dishes. Whether paired with succulent seafood, creamy poultry, or earthy truffle-infused delicacies, this exquisite wine will enhance every bite, transforming an ordinary meal into an extraordinary moment.
A Collector's Delight
For the discerning collector, Louis Latour Meursault 2018 holds a special allure. Like a treasure unearthed, each bottle represents a piece of history, meticulously crafted to withstand the test of time. With proper cellaring, the wine's true potential will gradually unfold, rewarding those with patience and a taste for the extraordinary.
A Symphony of Elegance: Louis Latour Meursault 2018
In the heart of Burgundy's prestigious vineyards, the Louis Latour Maison has woven a tale of finesse and mastery, embodied in the ethereal Louis Latour Meursault 2018. From its pale yellow allure to its complex aromas and harmonious flavors, this wine captivates both the novice and the aficionado. With each sip, you embark on an enchanting journey, guided by the passion and dedication of those who have crafted this liquid poetry. Let Louis Latour Meursault 2018 be your companion in creating memorable moments, for it is not merely a wine but an invitation to savor life's most extraordinary pleasures.