Unveiling the Essence of Louis Latour Nuits-Saint-Georges 2017
Allow me to whisk you away to the enchanting world of Louis Latour Nuits-Saint-Georges 2017. With its regal purple hue and tantalizing aromas of luscious red fruits intermingled with the richness of walnuts, this wine embodies elegance and finesse. As you embark on this sensory journey, prepare to indulge in a wine that not only captivates the palate but also leaves a lasting impression. Join me as we unravel the story behind this extraordinary creation by the esteemed Louis Latour winery.
The Origins of Louis Latour Nuits-Saint-Georges
A Timeless Legacy
Louis Latour Nuits-Saint-Georges emerges from the vineyards nestled in the revered Côte de Nuits region of Burgundy, France. For centuries, this esteemed winemaking family has meticulously crafted wines that showcase the distinctive character of their terroir. The Louis Latour estate, with its rich history dating back to 1797, has become synonymous with exceptional winemaking and unwavering dedication to quality.
A Captivating Symphony of Flavors
Louis Latour Nuits-Saint-Georges 2017 epitomizes the artistry of winemaking. With a palate that effortlessly combines elegance and depth, this vintage tantalizes the taste buds with its delicate balance. As you take your first sip, the wine caresses your senses, revealing a symphony of flavors. Notes of succulent red fruits dance on the tongue, enticing you to explore further. The velvety texture leaves an impression of opulence, while hints of walnuts add a delightful richness, taking this wine to new heights of complexity.
The Journey of Louis Latour Nuits-Saint-Georges 2017
A Vintage Worth Savoring
The 2017 vintage of Louis Latour Nuits-Saint-Georges embodies the essence of its terroir and the climatic conditions that shaped it. Carefully nurtured in the vineyards, the grapes were handpicked at the peak of their maturity, ensuring optimal flavor development. This meticulous approach to viticulture is what sets Louis Latour apart, and it shines through in every bottle of Nuits-Saint-Georges 2017.
A Testament to Time
As you indulge in this exceptional wine, you'll discover that time has been a faithful companion to Louis Latour Nuits-Saint-Georges 2017. Its rounded and well-integrated tannins speak of its maturation in oak barrels, a process that lends structure and complexity. The wine's long-lasting finish is a testament to the craftsmanship of Louis Latour, showcasing their commitment to producing wines that age gracefully, revealing new layers of character with each passing year.
The Pleasures of Louis Latour Nuits-Saint-Georges 2017
An Exquisite Pairing
Louis Latour Nuits-Saint-Georges 2017 is an exceptional companion for indulgent moments and refined dining experiences. Its versatility shines through, effortlessly complementing an array of culinary delights. Picture a velvety filet mignon adorned with a savory mushroom reduction, or perhaps a tender roasted duck breast served with a tangy berry compote. With each sip, the wine elevates the flavors of the dish, creating a harmonious marriage of taste sensations that lingers on the palate.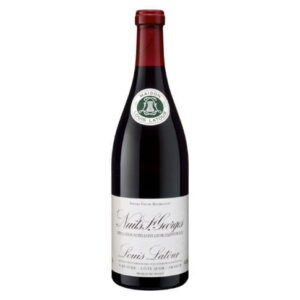 A Celebration of Life
Imagine a beautiful summer evening, where laughter fills the air and loved ones gather around a table adorned with delectable treats. Louis Latour Nuits-Saint-Georges 2017 sets the stage for memorable moments, adding a touch of elegance and sophistication to any occasion. Whether you're toasting to achievements, cherishing milestones, or simply reveling in the joys of life, this wine becomes a conduit for celebration and connection.
Elevate Your Senses with Louis Latour Nuits-Saint-Georges 2017
Louis Latour Nuits-Saint-Georges 2017 is not just a wine; it is a masterpiece that encapsulates the passion, dedication, and artistry of the Louis Latour winery. From its captivating aromas to its long-lasting finish, every sip reveals a story, inviting you to immerse yourself in the world of Burgundian excellence. Whether you're an avid connoisseur or an enthusiastic newcomer to the realm of fine wines, this remarkable vintage promises an experience that transcends the ordinary. Indulge in Louis Latour Nuits-Saint-Georges 2017, and let its splendor transport you to a realm of unforgettable pleasure.