Indulge in the Luxurious Elegance of Marimar Estate Don Miguel Vineyard Chardonnay
Immerse yourself in a sensory symphony as you savor the exquisite Marimar Estate Don Miguel Vineyard Chardonnay 2017/2018. This exceptional vintage offers a captivating experience, enticing your palate with its lush and complex character. With its rich silkiness, vibrant Green Valley acidity, and enchanting aromas of apple, creme brulee, and brioche, this wine is a true masterpiece crafted by the renowned Marimar Torres. Prepare to embark on a remarkable journey through the vineyards and discover the magic within each bottle.
Unveiling the Essence of Opulence
A Gastronomic Adventure in a Bottle
The Marimar Estate Don Miguel Vineyard Chardonnay 2017/2018 takes you on an unforgettable gastronomic adventure. With its engaging complexity and remarkable balance, this wine captures the essence of opulence in every sip. Each bottle is meticulously crafted to deliver an exceptional experience that will leave a lasting impression on even the most discerning connoisseurs.
A Symphony of Aromas and Flavors
Prepare to be captivated by the intense aromas that waft from your glass. As you indulge your senses, you'll be greeted by the alluring scents of crisp apples, tantalizing creme brulee, and the delicate essence of freshly baked brioche. These enticing aromas invite you to explore the intricate layers of this remarkable vintage, unveiling a harmonious fusion of flavors that dance upon your palate.
Silky Smoothness and Elegant Oak
One of the defining characteristics of the Marimar Estate Don Miguel Vineyard Chardonnay is its luxurious silkiness. From the first sip, you'll be enveloped in a velvety texture that glides effortlessly across your tongue. This delightful mouthfeel is skillfully enhanced by the gentle embrace of elegant oak, infusing the wine with delicate notes of hazelnut and anise. The result is a symphony of sensations that linger long after each sip, beckoning you to take another.
A Timeless Treasure to Cherish
A Vintage That Ages Gracefully
While the temptation to indulge in the splendor of this vintage immediately is irresistible, the Marimar Estate Don Miguel Vineyard Chardonnay 2017/2018 possesses the remarkable ability to age gracefully. With proper cellaring, this wine will continue to evolve, enhancing its complexity and depth over the next 15 to 20 years. Each bottle is a timeless treasure, waiting to be unveiled at just the right moment, making it a perfect addition to any collector's cellar.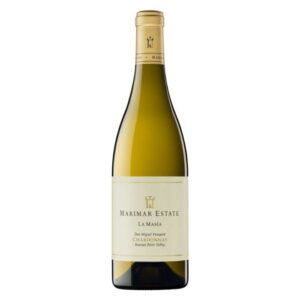 An Unforgettable Companion
Whether you're celebrating a special occasion or simply indulging in a moment of tranquility, the Marimar Estate Don Miguel Vineyard Chardonnay is an unforgettable companion. Its enticing aromas, vibrant flavors, and impeccable balance make it an ideal choice for pairing with a wide array of culinary delights. From delicate seafood dishes to creamy risottos and decadent poultry creations, this wine elevates each culinary experience to new heights.
Experience the Elegance
The Marimar Estate Don Miguel Vineyard Chardonnay 2017/2018 is a testament to the artistry and passion of Marimar Torres. With its lush complexity, vibrant acidity, and captivating aromas, this wine embodies the essence of luxury and refinement. Whether you choose to savor it now or cellar it for future enjoyment, each bottle holds the key to a memorable experience. Indulge in the beauty of this remarkable vintage and let it transport you to the enchanting vineyards of Marimar Estate. Raise your glass, toast to life's precious moments, and immerse yourself in the sheer elegance of this extraordinary Chardonnay.