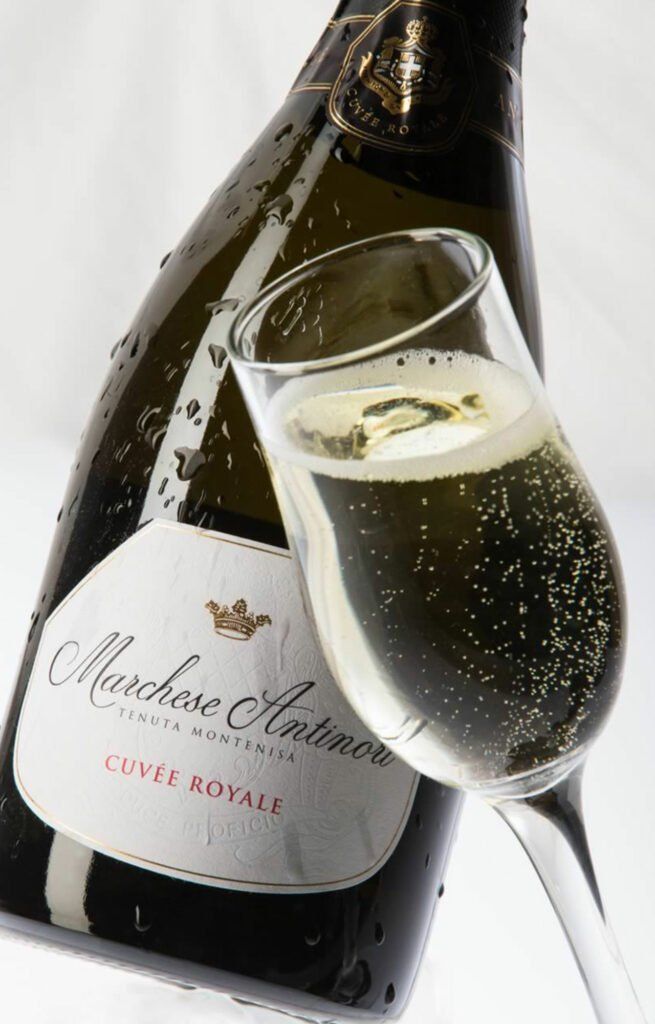 Produced from Chardonnay, Pinot Noir and Pinot Blanc grapes grown at Tenuta Montenisa, the aging on its lees brings out all of the wine's intense aromas of white peaches, apples, and hints of toasted bread.
The grapes, upon arrival in the cellars, were immediately given a soft pressing. The must obtained by this first pressing went directly into temperature controlled stainless steel fermentation tanks where the alcoholic fermentation took place. The wine then went through the process of second fermentation in bottle, refining in contact with its fine lees for a substantial period of time.
FOOD MATCHING AND SERVING TEMPERATURE
The typical floral and fruity fragrance of this Brut make the Marchese Antinori Cuvée Royal an ideal match with aperitifs, vegetable hors d'oeuvres, fish, white meat and first courses without excessive elaboration.
The ideal serving temperature for this wine is between 45 and 50 °Fahrenheit (7-9 °Centigrade).
The Marchese Antinori Cuvée Royal presents a light-yellow color along with a creamy foam and a fine and lengthy perlage. The nose is struck by the pleasurable notes of white peach, well balanced by sensations of bread crust and lees. The palate is harmonious and fully expresses the vivacity of a fine Brut.
Unveiling the Exquisite Montenisa Cuvee Royale: A Symphony of Flavors
Welcome to a world where elegance and sophistication converge in a single bottle of sparkling delight. Experience the extraordinary with Montenisa Cuvee Royale, a masterpiece crafted from a harmonious blend of Chardonnay, Pinot Noir, and Pinot Blanc grapes nurtured at the esteemed Tenuta Montenisa vineyard. Immerse yourself in a journey of the senses as you indulge in the intoxicating aromas of white peaches, apples, and subtle notes of toasted bread. Prepare to be captivated by the impeccable craftsmanship and refined character of this magnificent sparkling wine.
Vinification and Aging: Elevating the Art of Winemaking
Meticulous Craftsmanship from Grape to Bottle
At Tenuta Montenisa, the quest for excellence begins with the arrival of the carefully selected grapes in their cellars. With utmost care, these precious fruits undergo a gentle pressing, extracting the purest essence of their flavors. The resulting must finds its new abode in temperature-controlled stainless steel fermentation tanks, where the magic of alcoholic fermentation unfolds. But the journey does not end there. The wine embarks on a second fermentation in the bottle, patiently refining itself while in contact with its delicate lees, culminating in a symphony of complexity and finesse.
Food Pairing and Serving Temperature: A Culinary Symphony
Elevate Your Dining Experience
Indulge your palate with the symphony of flavors that Montenisa Cuvee Royale offers, enhancing every dining occasion with its versatile character. The delightful floral and fruity fragrance of this exquisite Brut effortlessly harmonizes with aperitifs, vegetable hors d'oeuvres, fresh fish, succulent white meat, and first courses of sublime simplicity. It effortlessly complements dishes that are not overly elaborate, allowing the wine's vibrant personality to shine through. Immerse yourself in the culinary realm, where Montenisa Cuvee Royale takes center stage, tantalizing your taste buds with each sip.
To unlock the full potential of this remarkable sparkling wine, serve it at the ideal temperature of 45 to 50 degrees Fahrenheit (7-9 degrees Centigrade). At this sweet spot, the symphony of flavors within Montenisa Cuvee Royale truly comes alive, offering an unforgettable sensory experience.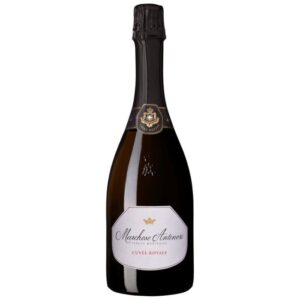 Tasting Notes: A Dance of Delight
A Symphony Unveiled
Montenisa Cuvee Royale presents itself as a luminous light-yellow elixir, adorned with a creamy foam and a delicate, persistent perlage. As the glass approaches your lips, the enchanting aroma of white peaches greets your senses, complemented by the subtle interplay of bread crust and lees. With each sip, the harmonious palate unfolds, revealing the vivacity of a truly remarkable Brut. Montenisa Cuvee Royale is a testament to the unwavering commitment to quality, the artistry of winemaking, and the dedication poured into every bottle.
Raise Your Glass to Montenisa Cuvee Royale: An Unforgettable Journey
Embark on a journey like no other, guided by the effervescence of Montenisa Cuvee Royale. From the vineyards of Tenuta Montenisa to your glass, this sparkling gem encapsulates the essence of Italian winemaking tradition and unparalleled craftsmanship. Whether it is a special celebration, an intimate gathering, or simply a moment of indulgence, Montenisa Cuvee Royale promises to elevate every occasion to new heights. Immerse yourself in the symphony of flavors, let the bubbles dance on your tongue, and savor the magic that unfolds. Raise your glass, and toast to the extraordinary, as Montenisa Cuvee Royale invites you to experience a taste of pure elegance.