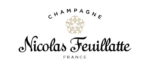 Champagne Nicolas Feuillatte, the third largest Champagne brand worldwide and the best-seller in France today, has seen remarkable improvement in quality over the years. It is a brand rooted in its territory, born in enchanting earth, with 4,500 wine growers. We believe that luxury is all about elegance and attitude, emotion and pleasure, appreciation of the good and the beautiful; therefore, champagne is not reserved solely for exceptional events, but it also brightens our very own special moments, bringing out the beauty of the present. We speak to those who recognise the value and the beauty in the here and now, and who know how to enjoy life's enchanted moments.
Having inherited the values of generosity and audacity, Nicolas Feuillatte celebrates the good times with emotion and intensity, creating precious moments for everyone. With its roots firmly planted in this enchanted land, fruit of the growers' work and sculpted by the chief winemaker, Champagne Nicolas Feuillatte epitomises the savoir-faire and inimitable house's style defined by precision, elegance and finesse.
Guillaume Roffiaen, chief winemaker, has an exceptional variety of crus at his disposal, offering infinite blending possibilities.