Unveiling the Essence of Palacios Remondo Propiedad 2020
A Journey through the Legacy of Palacios Remondo
At the heart of D.O Rioja, Bodegas Palacios Remondo stands tall, weaving a tapestry of winemaking brilliance that dates back to its inception in 1945. Founded by José Palacios Remondo, a visionary and pioneer, the torch of passion and innovation has been carried forward by his children, Álvaro Palacios and Chelo. Álvaro Palacios, a luminary in the Spanish wine realm, has crafted remarkable wines like L'Ermita in Priorat and La Faraona in El Bierzo.
Embracing Nature's Gifts in the Heart of Alfaro
Nestled in the municipality of Alfaro in La Rioja Baja, the winery's geographical location imparts a Mediterranean climate, where warmth reigns supreme and rainfall gracefully retreats. This unique microclimate becomes the nurturing ground for Grenache, the stalwart variety that thrives in the face of soaring temperatures.
Unveiling the Essence: Palacios Remondo Propiedad 2020
A Symphony of Grenache, Cultivated with Care
Palacios Remondo Propiedad 2020 is a testament to the singular expression of Grenache, sourced exclusively from vineyards perched at an elevation of 550 meters. The terroir blankets the soil with a diverse tapestry of calcareous, clayey-ferrous composition, generously strewn with pebbles. These exceptional conditions, meticulously tended by the winemaking team, breathe life into each vine.
A Harmonious Journey: From Vineyard to Winery
As the harvest season unfolds, skilled hands delicately pick the grapes during the hours of gentler sunlight, preserving their freshness. At the winery, the grapes embark on a meticulous journey. A selection table becomes the gateway to the next phase, where destemming reveals the treasures hidden within. Maceration and fermentation transpire in wooden vats, unraveling layers of complexity. Gradually, the wine transcends, gracefully embracing malolactic fermentation as it matures in barrels for 18 months.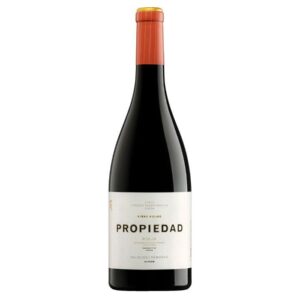 Complexity Meets Elegance: A Dance of Flavors
Palacios Remondo Propiedad 2020 unveils a mesmerizing union of complexity and elegance. Grenache, with its fruit-forward character, takes center stage, while the embrace of oak bestows a tantalizing touch of spiciness. Prepare to embark on a sensory journey where citrus and red and black fruits intertwine on the nose, complemented by a delicate floral nuance and hints of indulgent chocolate. On the palate, a symphony of taste unfolds, tantalizingly fresh, with velvety tannins and perfectly balanced acidity. This wine's exceptional aging potential beckons, reaching its zenith after five years of careful maturation in the bottle.
The Legacy Continues with Palacios Remondo Propiedad 2020
A Wine Crafted for the Discerning Palate
Palacios Remondo Propiedad 2020 reveals the mastery of Bodegas Palacios Remondo, where tradition and innovation blend seamlessly. The culmination of Grenache's nobility, meticulous vineyard care, and time-honored winemaking techniques manifest in each bottle, awaiting the discerning palate. Step into a world where passion for wine flows from generation to generation, and experience the embodiment of Spanish winemaking excellence through Palacios Remondo Propiedad 2020.