Discover the Delights of Prunotto Roero Arneis 2018
Experience the Essence of Prunotto Roero Arneis 2018
Welcome to the captivating world of Prunotto Roero Arneis 2018, a wine that embodies elegance and charm. With its straw yellow hue, adorned with delicate greenish undertones, this vintage beckons wine enthusiasts to embark on a sensory journey like no other. Prepare to be captivated by its enticing aromas, remarkable structure, and a finish that lingers on the palate. Let's delve deeper into the mesmerizing qualities that make this wine a truly exceptional experience.
The Aromatic Symphony of Prunotto Roero Arneis
A Bouquet Bursting with Floral and Fruity Notes
Prunotto Roero Arneis 2018 boasts an intense and captivating nose that immediately enchants the senses. As you uncork the bottle, delicate and alluring scents of flowers and fruits waft through the air. Imagine inhaling the essence of freshly bloomed flowers, with hints of zesty citrus and ripe orchard fruits dancing harmoniously. This symphony of aromas is an invitation to savor the forthcoming experience that awaits.
Unveiling the Palate: A Perfect Balance of Structure and Freshness
Upon the first sip, the true character of Prunotto Roero Arneis 2018 is revealed. Its palate is a testament to the winemaker's artistry, skillfully crafting a wine that embodies both structure and freshness in perfect harmony. The well-defined structure of this vintage provides a solid foundation for the tasting experience, while its vibrant freshness adds a lively touch. As the wine glides over your taste buds, you'll discover a remarkable interplay of flavors that leave a lasting impression.
A Lingering Finish that Leaves a Lasting Impression
The story of this wine doesn't end with its initial flavors. Instead, it gracefully unfolds with a finish that lingers, leaving an indelible mark on the palate. Each sip culminates in a symphony of sensations, as the wine bids adieu with a gentle yet persistent aftertaste. This lingering finale invites contemplation and reflection, encouraging you to appreciate the beauty of this exceptional vintage.
The Winemaking Craftsmanship Behind Prunotto Roero Arneis
A Heritage of Excellence and Passion
Prunotto, a renowned name in the world of winemaking, has been synonymous with excellence and passion for generations. Their commitment to crafting exceptional wines is exemplified in this vintage. Each bottle is a testament to the meticulous attention to detail and the unwavering pursuit of perfection. It is this heritage of craftsmanship that sets this wine apart and makes it a true delight for wine enthusiasts.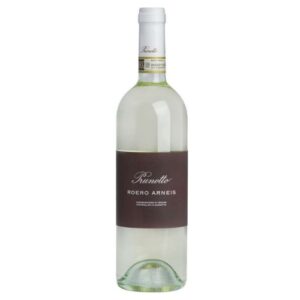 The Terroir: Where Nature Meets Inspiration
Nestled in the heart of the Roero region, the vineyards that give birth to this wine enjoy an extraordinary terroir. This unique combination of soil, climate, and geography imparts distinctive characteristics to the grapes, resulting in a wine of unparalleled quality. The vines bask in the gentle sunlight and thrive in the favorable microclimate, ripening the grapes to perfection. It is this harmonious blend of nature's blessings and winemaking expertise that gives birth to the exceptional Prunotto Roero Arneis 2018.
An Unforgettable Journey with Prunotto Roero Arneis 2018
Embrace the Magic of This Vintage
As we conclude this journey into the realm of Prunotto Roero Arneis 2018, it's impossible not to be enchanted by its captivating allure. From its enchanting bouquet to its harmonious palate and lingering finish, every sip tells a story of craftsmanship, passion, and terroir. This wine is not just an exceptional vintage; it is an experience that lingers in your memory, inviting you to revisit its splendor time and time again. Indulge in the magic of Prunotto Roero Arneis 2018 and let it transport you to a world of unparalleled delight.