Unveiling the Charms of Rene Bouvier Cote de Nuits Villages 2018
Welcome, wine enthusiasts, to an exquisite journey through the enchanting vineyards of Burgundy. Today, we uncork the secrets of a truly remarkable creation: Rene Bouvier Cote de Nuits Villages 2018. Prepare to be captivated by the harmonious dance of flavors, the velvety textures, and the extraordinary character that this distinguished wine possesses. Let us delve into the story behind this exceptional vintage, as we explore its origins, flavors, and the artistry of its crafting.
Origins and Terroir
A Testament to Time: The Vineyards of Rene Bouvier
Rene Bouvier Cote de Nuits Villages originates from venerable vines that have gracefully weathered half a century in the hallowed grounds of Brochon, nestled amidst the villages of Fixin and Gevrey-Chambertin. Picture a tranquil spot known as Queue de Hareng, where these 50-year-old vines stand as silent witnesses to the passage of time. Here, in this plot spanning 0.5 hectares (1.25 acres), nature has gifted the grapes an extraordinary terroir.
Firm Texture, Fruity Expression
The soil of this prized plot weaves its magic, comprising hard limestone pebbles entwined within a silty matrix. This unique composition imparts a captivating firmness to the texture of the grapes, ensuring a wine that truly stands out. Rene Bouvier Cote de Nuits Villages 2018 emerges as a testament to this terroir, with a powerful and resolute structure that sets it apart from the rest.
The Elixir Unveiled
A Symphony of Flavors
Indulge your senses in a sensory symphony that only Rene Bouvier Cote de Nuits Villages 2018 can orchestrate. As the ruby-hued elixir meets your lips, it introduces your palate to an exquisite display of fruity expressiveness. The quintessential charm of Pinot Noir blooms in each sip, embracing your taste buds with its captivating allure. Succulent cherries, plump strawberries, and a whisper of blackcurrants take center stage, harmonizing seamlessly with each other.
The Tapestry of Tannins
But it is the marriage of fruit and texture that elevates this wine to ethereal heights. Smooth, high-quality tannins envelop the fruity dance, enhancing the wine's structure and lending an air of elegance to each sip. These refined tannins bring balance to the wine, a testament to the winemaker's artistry and dedication to craft. With every sip, Rene Bouvier Cote de Nuits Villages 2018 reveals its mastery of blending flavors and textures.
A Finish with a Lasting Impression
As the symphony of flavors concludes its grand performance, a mineral symphony lingers on the palate, a testament to the extraordinary terroir from which this wine hails. Clear minerality emerges on the finish, leaving an indelible mark that demands another taste, another journey through the vines of Brochon. It is this persistent mineral character that sets Rene Bouvier Cote de Nuits Villages 2018 apart, reminding us of its unique origins.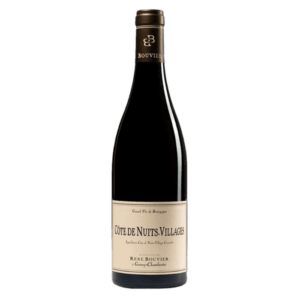 Cellaring Potential and Pairing
Unlocking the Passage of Time
Like a rare treasure, Rene Bouvier Cote de Nuits Villages 2018 has been patiently crafted to mature gracefully over time. With proper care, this wine can evolve and captivate for 5 to 10 years, unlocking new dimensions and flavors with each passing season. Allow this bottle to rest in your cellar, and you shall be rewarded with the evolution of its character, a testament to the artistry of the winemaker and the remarkable terroir it embodies.
The Perfect Union
To truly elevate your enjoyment of this magnificent vintage, we recommend savoring it alongside hearty, flavorsome fare. Picture a rustic feast, where the robust flavors of slow-cooked stews, tender roasts, and earthy mushrooms dance in harmony with the bold structure of Rene Bouvier Cote de Nuits Villages 2018. Allow this wine to accentuate the depth and complexity of your culinary endeavors, creating a symphony of flavors on your palate.
Embark on a Journey of Enchantment
As we reach the end of our voyage through the story of Rene Bouvier Cote de Nuits Villages 2018, we invite you to embrace this wine as more than a mere beverage. It is an ode to the legacy of the vineyards, the terroir that imparts its soul, and the artistry of the winemaker. With each sip, you savor the passage of time, the nuances of flavor, and the harmony between nature and human craft. Indulge in this extraordinary vintage, and let the symphony of flavors unravel on your palate, transporting you to the picturesque vineyards of Burgundy.