Unveiling the Essence of Rene Bouvier Marsannay Le Finage 2019
An Exquisite Blend of Heritage and Craftsmanship
Welcome to the world of Rene Bouvier Marsannay Le Finage 2019, an extraordinary wine that captures the essence of its French terroir. Crafted with passion and expertise, this remarkable vintage stands as a perfect ambassador for the appellation. Let us embark on a journey to discover the intriguing flavors and nuances that make this wine a true delight for discerning palates.
Unveiling the Flavors: A Tapestry of Aromas and Textures
A Melange of Marsannay Plots
Le Finage, meaning "territory," is a wine that proudly showcases the harmonious marriage of different Marsannay plots. These vineyards thrive on diverse clay limestone soils, lending a unique character to each grape. As you savor a glass of Rene Bouvier Marsannay Le Finage 2019, prepare yourself for a captivating symphony of flavors that unfold with every sip.
Energetic Tannins and Fruity Aromas
In this delightful vintage, the wine greets your palate with energetic tannins that provide structure and depth. The careful cultivation and craftsmanship behind Rene Bouvier Marsannay Le Finage 2019 result in a fully rounded wine that boasts a splendid balance of fruitiness and spices. The luscious aromas of ripe fruits dance gracefully with subtle hints of well-integrated spices, creating a truly harmonious ensemble.
Consistency and Freshness: The Captivating Finish
As you reach the finish, you will discover the remarkable consistency and freshness that define Rene Bouvier Marsannay Le Finage 2019. The wine's finale leaves a lasting impression, showcasing its finesse and elegance. It is a testament to the winemaker's dedication to crafting a wine of exceptional quality, which embodies the very soul of Marsannay.
The Perfect Time to Savor: A Wine for the Ages
Dynamic Enjoyment in the First 5 Years
Rene Bouvier Marsannay Le Finage 2019 is best savored during its dynamic first five years. As the wine matures, it reveals its full potential, allowing you to experience the intricacies and complexities that develop over time. Embrace the youthful exuberance of this vintage, and let it take you on a captivating journey through the Marsannay terroir.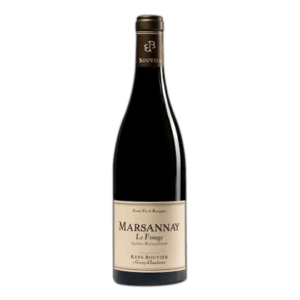 A Wine that Ages Gracefully
While it is recommended to indulge in the vibrant flavors of Rene Bouvier Marsannay Le Finage 2019 in its early years, this wine possesses the remarkable ability to age gracefully. For those who appreciate the evolution of flavors and the transformation of character, storing this vintage in a well-curated cellar will reward you with an even more profound experience. Unveiling the wine's maturation over time becomes an exquisite celebration of patience and anticipation.
Decanting: An Artful Encounter
Depending on the specific vintage, it may be beneficial to decant Rene Bouvier Marsannay Le Finage in its initial years. This careful act of aeration allows the wine to breathe, unfurling its aromas and softening its tannins. By embracing the art of decanting, you invite a delightful interplay of flavors and textures, enhancing your overall appreciation of this exceptional creation.
Embark on a Journey with Rene Bouvier Marsannay Le Finage 2019
A Wine That Transcends Time and Place
In Rene Bouvier Marsannay Le Finage 2019, you will discover a wine that captures the essence of its terroir and the artistry of its winemaker. With its energetic tannins, fruity aromas, and captivating finish, this vintage stands as a testament to the rich heritage and craftsmanship of Marsannay wines. Whether enjoyed in its youthful vibrancy or treasured for years to come, Rene Bouvier Marsannay Le Finage 2019 promises an unforgettable journey of the senses. Indulge in a glass and allow yourself to be transported to the picturesque vineyards of Marsannay, where passion and nature intertwine to create liquid poetry.