Experience the Elegance of Simonnet Febvre Chablis 2020: A Delicate Symphony of Flavors
Welcome to the enchanting world of Simonnet Febvre Chablis 2020! With its golden hue and captivating green reflections, this exceptional wine is a testament to the artistry and craftsmanship of the renowned Simonnet Febvre winery. Prepare to embark on a delightful journey as we explore the exquisite characteristics and alluring flavors of this remarkable Chablis.
The Captivating Visual Symphony
A Shimmering Golden Wonder with Green Reflections
At first glance, Simonnet Febvre Chablis 2020 greets your eyes with a captivating display. Its lovely shimmer dances within the glass, showcasing a mesmerizing golden color adorned with hints of green reflections. This visual symphony sets the stage for the remarkable experience that awaits your senses.
A Fragrant Overture: The Aromas Unveiled
Pleasant and Subtle Floral Notes Embrace Mineral Nuances
As you approach the glass, the rich and complex nose of Simonnet Febvre Chablis 2020 entices your olfactory senses. A harmonious blend of pleasant and subtle floral aromas intertwines with delicate mineral nuances, creating an intricate tapestry of scents that invites you closer. Each inhalation unveils a new layer, leaving you mesmerized by its captivating bouquet.
The Palate's Exquisite Performance
A Symphony of Structure, Minerality, and Chardonnay Charm
The moment Simonnet Febvre Chablis 2020 graces your palate, you are transported to a world of extraordinary flavors. This wine showcases a wonderful structure, combining the timeless elegance of Chablis with a captivating minerality. The charming, typical chardonnay aromas dance upon your taste buds, creating a harmonious ensemble that delights with every sip. The balance and finesse of this wine elevate the tasting experience to new heights.
A Memorable Finale: Aromatic Persistence
Unforgettable Flavors Echo Long After Each Sip
As you savor the last traces of Simonnet Febvre Chablis 2020, you'll be captivated by its exceptional aromatic persistence. The flavors linger on the palate, gracefully bidding farewell with a lasting impression. This wine leaves an indelible mark, ensuring that your experience with Simonnet Febvre Chablis 2020 will be etched in your memory for years to come.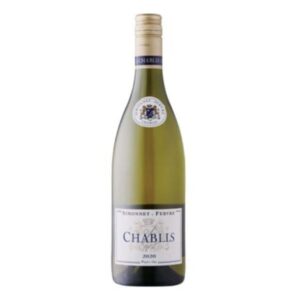 Perfect Symphony Pairings
Best Enjoyed with Cold Oysters, Shellfish, Fish, and Goats Cheese
Simonnet Febvre Chablis 2020 reaches its full potential when accompanied by delectable culinary companions. Its refreshing nature and exquisite flavors make it an ideal match for a variety of dishes. For a truly harmonious pairing, savor this wine alongside cold oysters, shellfish, fish, or the creamy indulgence of goats cheese. The interplay between flavors will create a symphony on your palate, accentuating the unique qualities of both the wine and the food.
Raise Your Glass to an Unforgettable Journey
In conclusion, Simonnet Febvre Chablis 2020 invites you to embark on an unforgettable journey through the vineyards of Chablis. With its shimmering golden color, delightful aromas, and enchanting flavors, this wine captures the essence of elegance and finesse. Whether you're a wine connoisseur or simply seeking a remarkable experience, Simonnet Febvre Chablis 2020 promises to captivate your senses and leave a lasting impression. So, raise your glass and toast to the symphony of flavors that awaits in every sip. Cheers to the extraordinary beauty of Simonnet Febvre Chablis 2020!