[vc_row][vc_column width="1/2″][vc_column_text woodmart_inline="no" text_larger="no"]
Unveiling the Sublime: Tormaresca Bocca di Lupo Catel del Monte DOC 2015
Imagine a wine that encapsulates the essence of passion, complexity, and allure. Step into the realm of Tormaresca Bocca di Lupo Catel del Monte, where elegance meets intensity, and craftsmanship intertwines with nature's bountiful gifts. This extraordinary wine, born in the year 2015, commands attention with its deep ruby red hue, while seducing the senses with an intricate tapestry of flavors and aromas. Join us on a captivating journey as we delve into the enchanting world of Tormaresca Bocca di Lupo Catel del Monte DOC 2015, a true masterpiece that showcases the very best of Italian winemaking.
The Art of Aromas: A Symphony of Sensations
Arouse the Senses with Opulent Aromas
With the very first encounter, Tormaresca Bocca di Lupo Catel del Monte casts its spell, mesmerizing all who inhale its bouquet. A symphony of scents dances through the air, unveiling an abundance of red berry fruit, tantalizing the palate with its juiciness and vibrancy. Delicate notes of sweet spices sprinkle like stardust, adding a touch of warmth and intrigue to the experience. As the aromas continue to unfold, hints of tobacco and chocolate emerge, creating an enchanting harmony that entices the senses.
An Enchanting Palate of Pure Pleasure
Prepare to be captivated by the full-bodied allure of Tormaresca Bocca di Lupo Catel del Monte DOC 2015. This wine is a testament to the perfect balance between power and grace, leaving an indelible impression on the palate. Firm yet balanced tannins create a sturdy structure, allowing the flavors to unfold with elegance and finesse. Each sip reveals a tapestry of sensations, from luscious red berry fruit dancing on the tongue to the subtle caress of sweet spices. The experience is further elevated by the rich presence of tobacco and chocolate, bestowing a seductive depth that lingers long after the final sip.
Craftsmanship and Legacy: The Tormaresca Touch
The Artisan's Passion: Tormaresca Winery
Behind every great wine lies the dedication and expertise of visionary winemakers. Tormaresca Winery, nestled in the enchanting region of Puglia, Italy, stands as a testament to the craft's rich heritage and unwavering pursuit of excellence. Guided by a deep respect for the land and an unwavering commitment to sustainable practices, Tormaresca Winery carefully cultivates its vineyards, allowing the terroir to impart its unique character upon each grape.[/vc_column_text][/vc_column][vc_column width="1/2″][vc_column_text woodmart_inline="no" text_larger="no"]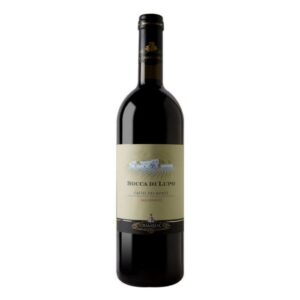 The Terroir's Embrace: Puglia's Gift to the Vine
Situated in the sun-kissed embrace of Puglia, Tormaresca's vineyards flourish amidst a landscape steeped in natural beauty. The region's gentle hills, caressed by Mediterranean breezes, create an idyllic microclimate that nurtures the vines to perfection. This harmonious marriage between nature and nurture is evident in every sip of Tormaresca Bocca di Lupo Catel del Monte DOC 2015, as it captures the essence of Puglia's remarkable terroir.
A Timeless Legacy: Tormaresca Bocca di Lupo Catel del Monte DOC 2015
In the realm of fine wines, Tormaresca Bocca di Lupo Catel del Monte DOC 2015 reigns supreme, an embodiment of sophistication and artistry. From the first glance to the lingering finish, this wine evokes a sense of wonder and indulgence. With its alluring aromas, harmonious flavors, and impeccable craftsmanship, it transports wine enthusiasts to a realm of pure pleasure. Indulge in this vinous masterpiece and savor the legacy of Tormaresca Bocca di Lupo Catel del Monte DOC 2015—an experience that transcends time and captivates the soul.[/vc_column_text][/vc_column][/vc_row]