A Celestial Delight: Torres Celeste Crianza 2019
Welcome to the world of Torres Celeste Crianza 2019, a true gem from the renowned Ribera del Duero region. With its dark plums, black cherries, and tantalizing hints of black pepper and olives, this medium to full-bodied wine is a sensory adventure waiting to unfold. Loaded with fine-grained tannins and vibrant, juicy plums, Torres Celeste Crianza 2019 is a wine that captures the essence of its terroir. Join us as we dive into the story behind this exceptional creation, and discover why it deserves a special place in your cellar.
Unveiling the Character
The Vibrant Symphony of Flavors
Torres Celeste Crianza 2019 dances on the palate with a symphony of flavors that showcases the best of the Ribera del Duero region. From the first sip, you are greeted with the luscious notes of dark plums and black cherries, offering a rich and velvety experience. These flavors are perfectly complemented by hints of black pepper, which add a touch of spice to the wine's profile, and olives that lend a subtle savory quality. It's a harmonious blend that keeps you coming back for more.
A Tantalizing Texture
One of the defining features of Torres Celeste Crianza 2019 is its captivating texture. As you explore this wine, you'll encounter fine-grained tannins that gracefully envelop your taste buds, creating a smooth and velvety mouthfeel. These tannins provide structure and depth, adding layers of complexity to the overall experience. Whether you choose to enjoy it now or allow it to age for a year or two, this wine will reward you with its refined and lingering finish.
Crafted in Excellence
The Art of Winemaking
Torres Celeste Crianza 2019 is the result of meticulous craftsmanship and a deep respect for the winemaking traditions of Ribera del Duero. The region's unique microclimate, with its hot summers and cold winters, lends character and intensity to the grapes. Carefully selected Tempranillo grapes are harvested by hand at the peak of ripeness, ensuring that only the finest fruit makes its way into the wine.
Aged to Perfection
After the initial fermentation process, Torres Celeste Crianza 2019 undergoes a careful aging process that further enhances its flavors and aromas. The wine is aged in French and American oak barrels, allowing it to develop complexity and depth over time. This aging process imparts delicate nuances of vanilla, toasted oak, and subtle spices, contributing to the wine's overall allure.
An Enchanting Journey
Pairing Possibilities
Torres Celeste Crianza 2019 is a versatile companion that pairs beautifully with a wide range of dishes. Its balanced acidity and medium to full body make it a perfect match for hearty meats like grilled lamb or succulent roast beef. The wine's fruity notes also complement robust cheeses, such as Manchego or aged cheddar, creating a delightful contrast of flavors. Whether you're planning an intimate dinner or a festive gathering, Torres Celeste Crianza 2019 is sure to elevate the dining experience.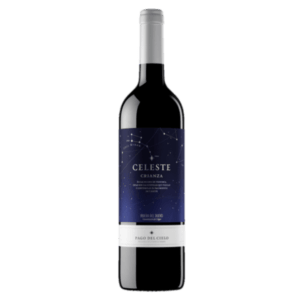 A Gift to Treasure
Looking for the perfect gift for a wine enthusiast or a connoisseur? Look no further than Torres Celeste Crianza 2019. This wine embodies the elegance and sophistication that wine lovers cherish. Whether it's a birthday, anniversary, or any other special occasion, presenting a bottle of Torres Celeste Crianza 2019 is a thoughtful gesture that will be remembered and appreciated.
A Stellar Choice: Torres Celeste Crianza 2019
In the world of wines, Torres Celeste Crianza 2019 shines brightly as a true star. Its captivating flavors, tantalizing texture, and expert craftsmanship make it an exquisite choice for any wine lover. Whether you're a seasoned connoisseur or an enthusiastic beginner, this wine offers a delightful journey through the unique terroir of Ribera del Duero. So, uncork a bottle, savor the symphony of flavors, and let Torres Celeste Crianza 2019 transport you to a realm of celestial delight. Cheers to a wine that truly deserves its place among the stars!