Villa Antinori Chianti Classico Riserva DOCG 2018: A Captivating Symphony of Flavors
Welcome to the exquisite world of Villa Antinori Chianti Classico Riserva DOCG 2018! Get ready to embark on a sensory journey through the rolling hills of Tuscany, where passion, tradition, and artistry converge to create a truly remarkable wine. With its intense ruby red color and a symphony of aromas that dance on your palate, this wine is a true masterpiece.
Unveiling the Elegance
The Enchanting Bouquet
As you uncork the bottle, the tantalizing scents of Villa Antinori Chianti Classico Riserva immediately greet your senses. The nose reveals a harmonious blend of ripe plums and succulent quince, infused with alluring notes of laurel, cocoa, and a touch of white pepper. It's like opening a treasure chest filled with aromatic wonders, each inviting you to delve deeper into its complexities.
A Balsamic Finale
What sets this wine apart is its enchanting balsamic finish. As you take a sip, a delightful chorus of eucalyptus and mint dances on your tongue, leaving a refreshing and invigorating sensation. It's the perfect punctuation mark to the symphony of flavors that Villa Antinori Chianti Classico Riserva offers.
A Palate of Pure Delight
Vibrant and Velvety
The moment this wine caresses your palate, you'll be captivated by its vibrant and velvety texture. It wraps around your taste buds, revealing a harmonious balance between its savory character and the natural sweetness of the grapes. The softness of the tannins creates a seamless and elegant mouthfeel, inviting you to savor each sip.
A Long and Savory Finish
Villa Antinori Chianti Classico Riserva embraces you with a long and savory finish, ensuring that its enchanting flavors linger on your palate. The wine gracefully evolves, gradually unveiling its abundant fruity, spicy, and balsamic nuances. It's an orchestra of taste, with every note perfectly orchestrated to create a truly memorable finale.
Craftsmanship and Heritage
The Art of Winemaking
Behind every bottle of Villa Antinori Chianti Classico Riserva lies a rich heritage of winemaking craftsmanship. For centuries, the Antinori family has nurtured their vineyards with unwavering dedication, blending tradition with innovation to create wines that embody the essence of Tuscany. This wine, born from their passion and expertise, is a testament to their commitment to excellence.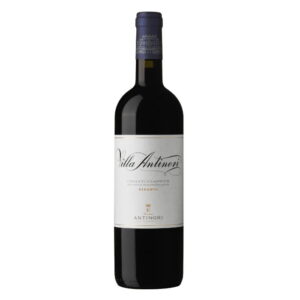 The 2018 Vintage
The 2018 vintage of Villa Antinori Chianti Classico Riserva stands as a testament to the outstanding quality of that year. With meticulous care, the grapes were hand-picked at the peak of their ripeness, ensuring optimal flavor development. This attention to detail and respect for nature's rhythm culminated in a wine that captures the essence of the land and the spirit of the vintage.
An Unforgettable Experience
Villa Antinori Chianti Classico Riserva DOCG 2018 is more than a wine; it's an invitation to savor life's beautiful moments. With its captivating aromas, vibrant flavors, and lingering finish, it weaves a story that resonates with every sip. Whether you're celebrating a special occasion or simply indulging in a moment of tranquility, this wine will elevate your experience, leaving an indelible mark on your palate and in your memories. Discover the magic of Villa Antinori Chianti Class