Unveiling the Exquisite Wente Riva Ranch Chardonnay 2019
Indulge your senses in a remarkable wine experience with the renowned Wente Riva Ranch Chardonnay 2019. This exceptional creation from the esteemed Wente Vineyards is a true masterpiece that encapsulates the art of winemaking. Crafted with precision and passion, this exquisite wine tantalizes the palate with its captivating flavors and luxurious aromas. Join us on a journey as we delve into the world of Wente Riva Ranch Chardonnay, exploring its unique characteristics and the sensory symphony it offers.
The Story of Wente Riva Ranch Chardonnay
A Testament to Winemaking Heritage
Wente Vineyards, a family-owned winery with a remarkable history dating back over 135 years, has perfected the art of winemaking with their exceptional Wente Riva Ranch Chardonnay. Nestled in the picturesque Livermore Valley, California, the Wente estate boasts an ideal terroir that imparts distinctive qualities to their wines. This particular vintage, the Wente Riva Ranch Chardonnay 2019, is a testament to their winemaking heritage, crafted with meticulous attention to detail.
A Symphony of Aromas and Flavors
As you uncork a bottle of Wente Riva Ranch Chardonnay 2019, the air is instantly filled with an enchanting bouquet. Bold oak aromatics greet your senses, inviting you to delve deeper into its complexity. This exquisite wine unveils a rich tapestry of flavors on the palate, starting with tropical fruit notes of pineapple, leading to the succulent sweetness of white nectarine. The symphony of flavors is harmoniously complemented by delicate hints of sweet baking spices, adding an alluring depth to each sip. The wine gracefully lingers, leaving behind a round and satisfying mouthfeel that lures you to experience more.
The Perfect Pairing
The versatility of Wente Riva Ranch Chardonnay 2019 makes it an ideal companion for various culinary delights. Its vibrant tropical fruit notes and well-integrated oak make it an exquisite partner to creamy pasta dishes or succulent roasted chicken. For seafood lovers, this wine elevates the flavors of buttery lobster or grilled shrimp, creating a match made in culinary heaven. Whether you're hosting an intimate gathering or treating yourself to a moment of indulgence, the Wente Riva Ranch Chardonnay 2019 effortlessly enhances every dining experience.
Crafting Excellence: The Wente Legacy
A Family's Dedication to Perfection
Wente Vineyards holds a place of distinction in the world of winemaking, with the fourth and fifth generations of the Wente family continuing their legacy of excellence. Their commitment to crafting exceptional wines has earned them accolades and a reputation that spans the globe. The Wente Riva Ranch Chardonnay 2019 stands as a shining example of their unwavering dedication to producing wines that embody both tradition and innovation.
Sustainable Practices, Uncompromising Quality
At Wente Vineyards, sustainable practices are deeply ingrained in their winemaking philosophy. The Wente family takes great pride in their environmentally conscious approach, ensuring that their vineyards thrive for generations to come. By employing sustainable farming techniques, such as cover cropping and natural pest management, they create an ecosystem that fosters the highest quality grapes. This commitment to sustainability shines through in every bottle of Wente Riva Ranch Chardonnay 2019, offering wine enthusiasts an exquisite blend of taste and responsibility.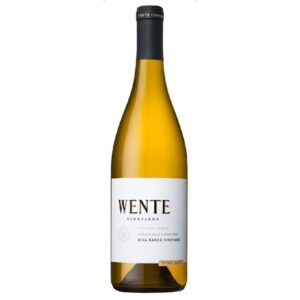 A Captivating Journey with Wente Riva Ranch Chardonnay 2019
Indulge in the captivating allure of Wente Riva Ranch Chardonnay 2019, a wine that captures the essence of the Wente family's winemaking legacy. With its bold oak aromatics, luscious tropical fruit flavors, and delightful hints of sweet baking spices, this wine takes you on a sensory adventure like no other. Savor the round mouthfeel that leaves an everlasting impression, sip after sip. As you uncork a bottle of Wente Riva Ranch Chardonnay 2019, you unlock a world of elegance, craftsmanship, and exceptional taste. Embark on this extraordinary journey and let your palate be forever enchanted.