By Florence Tsai, Senior Editor of Prestige Online
Wine Maven Bernice Liu is probably the only member of the entertainment world to be a certified sommelier on top of being an actress, model and singer. Ever since visiting Napa Valley in 2008 after a blizzard delayed filming in Vancouver, Liu has gone on to produce her own wine, Bellavizio, as well as setting up Wine Maven, an online shop for wine lovers in Hong Kong.
Describing what attracted her to wine in the first place, Liu says "it was actually the science behind wines that really turned me on." Before entering show business, Liu studied pre-med in her native Canada, so she's always been fascinated in chemistry.
"I'm fascinated with how the combination of acids, sugars, aromas, pigment compounds and tannins give wine its beautiful texture and flavour." – Bernice Liu
Liu admits to only started learning how to appreciate wine a decade ago after exploring vineyards such as Robert Mondavi, Franciscan, Pine Ridge Vineyards, Jessup Cellars and Stags' Leap during her Napa valley sojourn. After this, she travelled to Bordeaux where she met Thibault Despagne, whose family produce stellar wines such as Girolate, Mirambeau and Mont Perat."That is where I created my first Bordeaux blanc. Famous for its Semillon-Sauvignon Blanc blends, I knew it was the perfect place for Bellavizio – which is Italian for "beautiful mistake" and basically sums up how I stumbled into this passion project."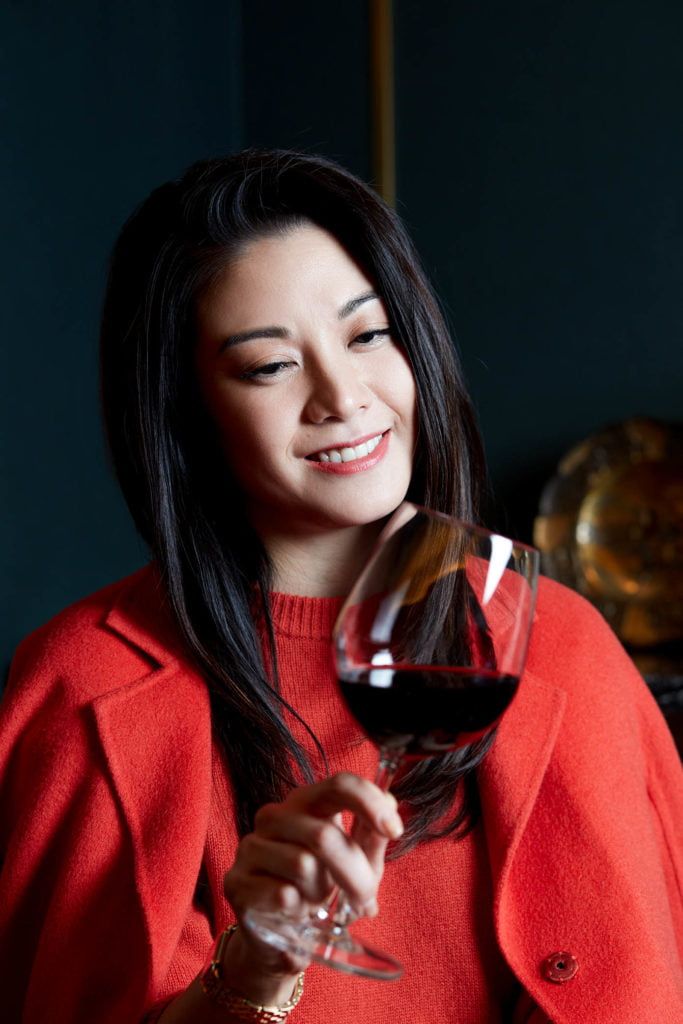 Since Liu discovered her passion for wine, she has gone on to achieve a Level 3 Award in Wines from the Wine & Spirit Education Trust, a London-based global organisation that arranges courses and exams in wine and spirits appreciation and is now studying for the highest Level 4 Diploma in wines. She's also a certified Hong Kong Sommelier Association member.
Recently, Liu has started an online shop called Wine Maven to help bring the wine community together through these tough times to continue the conversation – "my aim is to provide a platform where people can exchange, learn, and transform their wine knowledge," she says. Liu also recently finished her commerce degree at the University of British Columbia and wants to help the wine industry by applying what she learned to an industry that doesn't appear to be keeping up with the times, technologically.
When asked to name her favourite wines and regions, Liu says that she loves Latour, Pétrus, Calon-Ségur and Clos de Vougeot – "there are too many wonderful regions to name! It depends on what I'm pairing it with but my soft spots are Sonoma, Pauillac, Champagne as well as Grgich Hills Estate which is a winery in Rutherford, California in the heart of Napa Valley." As for some of the most impressive vineyards she's visited, Liu mentions Châteaux Leoville-Las Cases near Pauillac and Castello Grinzane Cavour in Piedmont, Northern Italy, which was inscribed on the UNESCO World Heritage list in 2014.
Although Bellavizio has already won medals at wine competitions, Liu says she couldn't have achieved it without the help of Éric Boissenot, who is her consultant on Bordeaux Red wines. "I met Eric through a shared love for photography, when I was taking photos of the vineyards with my Leica M8 on my first visit to Bordeaux, which sparked a conversation.
At that time I was also staying with a family who were friends with my Napa wine mentor. It was very important for me to have mentors to help guide me in this industry, which I was completely new to at the time," Liu says. "I'm so grateful as it's given me some fresh air from my main career in the entertainment industry and has introduced me to a whole new world of learning and friends, which I love."
Liu has also put her passion project to work for philanthropy: "The money Bellavizio raised in auctions also really put the label on the wine map. That's essentially the reason I was awarded the Diamond Jubilee Medallion from the Queen in 2013 because of the charity work and funds raised that linked China, France and Canada – since Canada and France have close ties," she says.
The biggest donation Liu has made in Hong Kong was for a dinner for The One charity run by the Harilela family, for which she sponsored all the white wines served for the evening as well as the prizes. Liu had not yet started selling her wines on the open market at the time – it was just something she shared with family and friends, and private wine connoisseurs who supported her passion by buying a few bottles or cases to cover costs.