Discover the Exquisite Delights of IDOIA Blanc 2018
Indulge your senses in a captivating symphony of flavors with IDOIA Blanc 2018, a truly remarkable wine that exemplifies the artistry of winemaking. Crafted with passion and precision, this exceptional blend from the enchanting region of D.O. Catalonia, Spain, is a testament to the mastery of the winemakers behind it.
IDOIA Blanc 2018: A Sensory Journey
Unveiling a Radiant Elixir
Behold the IDOIA Blanc 2018, adorned with a mesmerizing pale golden hue that sparkles with clarity and brilliance. As you raise the glass to your lips, an enticing array of aromas wafts gently towards you, carrying the essence of ripe white fruits, like luscious apricot, on a fragrant breeze. Delightful whispers of nutmeg and toasted wood dance gracefully in the background, adding depth and complexity to the sensory symphony.
A Silken Tapestry of Flavors
As the elixir caresses your palate, a velvety texture envelops your senses, accompanied by a refreshing burst of vibrant freshness. The IDOIA Blanc 2018 is a wine that effortlessly balances complexity, richness, and smoothness, creating a truly harmonious experience. Its unctuous nature and round character unfold with every sip, leaving a pleasant and enduring finish that evokes the tantalizing essence of dry lemon skin.
Perfect Pairings to Elevate Your Culinary Adventures
Let your gastronomic journey reach new heights with IDOIA Blanc 2018 as your faithful companion. This exceptional wine harmonizes flawlessly with a multitude of culinary delights. Picture a creamy rice dish, where each spoonful is elevated by the wine's enchanting presence. Imagine savoring the tender succulence of grilled white meats, where the IDOIA Blanc 2018 acts as the catalyst for an explosion of flavors. Whether it's a sauce-drenched fish or the creamy embrace of sheep or goat cheese, this wine amplifies the nuances of each dish, transforming ordinary moments into extraordinary memories.
IDOIA Blanc 2018: A Legacy of Vines
The Origins of Greatness
The IDOIA Blanc 2018 draws its exceptional character from carefully nurtured vines in the age-old vineyards of D.O. Catalonia, Spain. These vines, with an impressive age ranging from 20 to 40 years, have weathered the passage of time, gaining wisdom and depth that shines through in every drop of this magnificent wine.
Elevate Your Tastebuds with IDOIA Blanc 2018
Embark on an extraordinary journey of flavors and sensations with IDOIA Blanc 2018. This splendid wine, with its alluring pale golden color, tantalizing aromas, and captivating flavors, is a testament to the dedication and passion of the winemakers who crafted it. Its silky texture, fresh vibrancy, and complex character make it a true masterpiece that leaves a lasting impression. Whether you're relishing a sumptuous meal or simply sipping it on its own, IDOIA Blanc 2018 is an experience to be savored and cherished. Allow yourself to be transported to the picturesque vineyards of Catalonia, Spain, as you savor every sip of this remarkable elixir.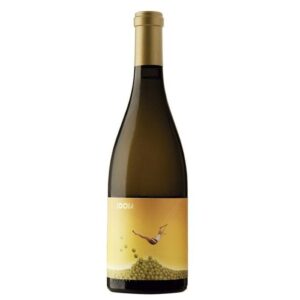 IDOIA Blanc 2018
Region 地區
D.O. Catalonia, Spain 法定產區加泰羅尼亞, 西班牙
Grape Variety 葡萄品種
47% Xarel·lo, 23% Chardonnay, 18% Garnatxa Blanca, 12% Macabeu
47% 沙雷洛, 23% 莎當妮, 18%白歌海娜, 12% 馬卡貝奧
Age of the vines 葡萄籐樹齡
20 – 40 years old 年
Tasting Notes 酒評
It has a nice pale golden colour limpid and bright. The nose reveals aromas of ripe white
fruits such as apricot and a subtle final memory of nutmeg and toasted wood. The palate has
a silky texture accompanied by a good freshness that appears in the background. It is
complex, unctuous and round, with a pleasant and persistent finish that recalls the dry lemon
skin.
它有一種漂亮的淺金色,清澈明亮。充滿成熟的杏桃等白色水果的香氣,以及肉荳蔻和烤木的
味道。口感柔滑、新鮮。它複雜、圓潤、豐富,亦有檸檬皮的香味後勁。
Food Pairing 配襯食品
Creamy rice, fish and white meats on the grill or with sauce and sheep or goat cheese
意大利飯、魚肉、烤白肉、羊肉、羊奶芝士
Service 飲用溫度
To be served chilled 冷藏飲用