Discover the Exquisite Charm of La Vieille Eglise Blanc, AOC Cotes du Marmandais
Welcome to Wine Maven, where we celebrate the world's finest wines that transport your taste buds to new heights of delight. Today, we invite you to embark on a sensory journey with us as we unveil the captivating elegance of La Vieille Eglise Blanc, AOC Cotes du Marmandais. This enchanting wine, predominantly crafted from the renowned Sauvignon Blanc grape, will entice you with its radiant color, tantalizing aromas, and vibrant flavors. Join us as we dive into the nuances of this remarkable vintage and explore the scenic vineyards of the Cotes du Marmandais appellation, nestled in the picturesque landscape of Southwest France.
The Story of La Vieille Eglise Blanc
A Majestic Haven in the Heart of Marmande
In the sun-kissed South West of France, a stone's throw away from the charming city of Marmande, lies the revered vineyards of the Cotes du Marmandais appellation. Here, amidst the rolling hills that grace the legendary Garonne River, stands the magnificent La Vieille Eglise estate. The winemakers, guided by a profound reverence for tradition and an unwavering commitment to excellence, have crafted a wine that truly embodies the essence of this exceptional terroir.
A Symphony of Sauvignon Blanc
La Vieille Eglise Blanc, AOC Cotes du Marmandais, proudly showcases the pure and expressive character of the Sauvignon Blanc grape. In the delightful 2018 vintage, this wine dazzles with its clear and luminous hue, enhanced by a subtle silvery sheen. As you raise your glass to your lips, you'll be captivated by the irresistible aromatic richness that emanates from within.
Unveiling a Sensory Tapestry
Prepare your senses for a kaleidoscope of delightful aromas that intertwine harmoniously in La Vieille Eglise Blanc. Citrus fruits dance playfully, their vibrant zest infusing the air. White flowers weave a tapestry of delicate elegance, their gentle fragrance filling the room. And the alluring essence of boxwood adds a hint of intrigue, beckoning you to take that first sip.
A Tonic Symphony on Your Palate
The moment your lips touch the glass, your palate is greeted with a symphony of sensations. La Vieille Eglise Blanc strikes a perfect balance, exuding both vivacity and richness. Its refreshing nature invigorates your taste buds, while the fullness of flavor leaves a lasting impression. The finale is a delightful crescendo, where hints of pink grapefruit linger, lending a subtle acidity that enhances the overall experience.
Food Pairing: An Epicurean Adventure
Unlocking Culinary Harmony
La Vieille Eglise Blanc, with its remarkable versatility, invites you to embark on a culinary adventure. Whether you're enjoying a laid-back aperitif, savoring the delicate flavors of fish, or indulging in a seafood feast, this wine effortlessly complements a variety of dishes. Its harmonious nature bridges flavors and elevates the dining experience, making each bite a symphony of tastes.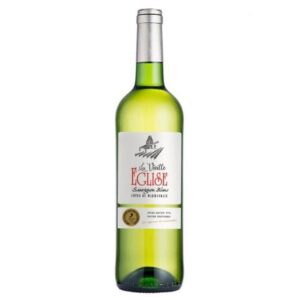 Elevate Your Moments with La Vieille Eglise Blanc
As we bid farewell to our exploration of La Vieille Eglise Blanc, AOC Cotes du Marmandais, we hope you've discovered the magic that lies within each bottle. This exquisite wine is a testament to the dedication and artistry of the winemakers who have lovingly crafted it, capturing the essence of the vineyards and the spirit of the Cotes du Marmandais appellation. Whether you're sharing a special occasion or simply seeking a moment of indulgence, let La Vieille Eglise Blanc be your guide to unforgettable experiences, where every sip transports you to a world of refined pleasure. Cheers to the allure of extraordinary wines!
La Vieille Eglise Blanc, AOC Cotes du Marmandais, 750ml
Location 地點
In the South West of France, a few miles away from the city of Marmande, the vineyards of the appellation Cotes du Marmandais bord the hillside of the famous river Garonne.
Grape Variety 葡萄種類
100% Sauvignon Blanc
Tasting Note 酒評
Clear bright colour with silvery sheen. Mainly dominated by Sauvignon, this 2018 surprises by its aromatic richness. It reveals notes of citrus fruits, white flowers and boxwood. The mouth is both tonic and full. The final is fruity and slightly acid, reminding pink grapefruit.
Food Pairing 食物配搭
Aperitif, fish, seafood