Elevate Your Cheese Tasting Experience with the Maitre De Vin® 4-Piece Cheese Board Set
Are you a cheese aficionado who appreciates the finer things in life? Look no further than the Maitre De Vin® 4-Piece Cheese Board Set (Rubberwood). Crafted from exquisite rubberwood, a sturdy and durable hardwood, this cheeseboard is designed to enhance your cheese tasting gatherings like never before. With its elegant construction and thoughtful features, it's a must-have for any wine maven or cheese connoisseur.
A Masterpiece of Craftsmanship: The Rubberwood Cheese Board
At the heart of this set lies the rubberwood cheese board. Carefully constructed with attention to detail, this board exudes a timeless charm that complements any occasion. The rubberwood, known for its strength and durability, ensures that your cheeseboard remains in impeccable condition for years to come. Its natural beauty shines through, creating an appealing backdrop for your delightful cheese selection.
Unleash the Flavor: Stainless Steel Knives and Forks
To truly savor the flavors of your favorite cheeses, the Maitre De Vin® 4-Piece Cheese Board Set includes a set of stainless steel knives and forks. Expertly crafted, these utensils effortlessly glide through a variety of cheeses, allowing you to experience each texture and taste sensation. With their sleek design and superior functionality, these knives and forks make cheese preparation a joyous affair.
Perfect Presentation: Ceramic Cutting Board
Imagine the delight on your guests' faces as you unveil the centerpiece of this cheeseboard set—the round ceramic cutting board. Carefully nestled within the rubberwood board, this elegant addition provides a sophisticated platform to showcase your carefully chosen cheeses. With its exquisite design, it adds a touch of class to any table, making your cheese tasting gatherings truly memorable.
Specifications: A Closer Look at the Maitre De Vin® 4-Piece Cheese Board Set
Let's delve into the specifications of this remarkable cheese board set:
1 pc Hard Cheese Knife: Designed for slicing through hard cheeses with precision.
1 pc Parmesan Shaver: Crafted specifically for shaving delicate Parmesan cheese.
1 pc Cheese Fork: Perfect for serving and sampling a variety of cheeses.
30 x 20 x 1.5cm Rubberwood Board: Spacious enough to accommodate an assortment of cheeses, fruits, and accompaniments.
Ø15cm Ceramic Cutting Board: A removable ceramic cutting board that adds elegance and versatility to your cheese presentations.
Cheese Knives: Made from high-quality stainless steel with handles crafted from rubberwood, ensuring a comfortable grip and lasting durability.
Packing Box Size: 32 x 42.5 x 21.2cm: A stylish and sturdy packaging box that ensures safe transportation and storage of your cheese board set.
Product Care: Preserving the Beauty and Functionality
To maintain the longevity and beauty of your Maitre De Vin® 4-Piece Cheese Board Set, it is important to follow these simple care instructions:
Hand-wash the board with a soft cloth: To prevent damage to the delicate wood and ceramic surfaces, gently clean the cheese board by hand. Avoid using abrasive materials or harsh chemicals.
Dry thoroughly: After washing, ensure that the board is completely dry before storing it. This helps to prevent warping or potential mold growth.
Exercise caution with sharp knife blades and pointed fork tips: While the knives and forks are designed for precision, it is essential to handle them with care. Store them securely and keep them out of reach of children.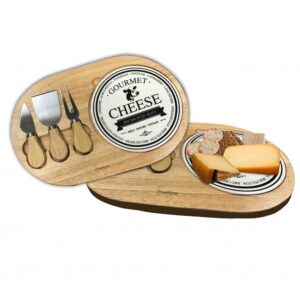 A Stylish Companion for Cheese Enthusiasts
The Maitre De Vin® 4-Piece Cheese Board Set (Rubberwood) is a masterpiece that combines elegance, functionality, and durability. Crafted with attention to detail, this set offers a superior cheese tasting experience for those who appreciate the art of fine cheese. With its rubberwood cheese board, stainless steel knives and forks, and ceramic cutting board, it provides the perfect stage to showcase your favorite cheeses to friends and family.
Indulge in the sophistication and convenience of the Maitre De Vin® 4-Piece Cheese Board Set and elevate your cheese tasting gatherings to new heights. Whether you are hosting a wine and cheese party or simply enjoying a quiet evening at home, this set is sure to impress. Experience the joy of savoring exquisite cheeses with the perfect accompaniment—an exceptional cheese board set designed for the true wine maven.
This cheeseboard is made from rubber wood, which is a kind of hardwood, more long-lasting and durable. With a set of cheese fork and knives, nicely attached and organized on magnets. You can prepare wine tasting gathering any time you like. A round ceramic fancy cheese cutting board can be taken out and present your delicious cheese to your guests.
Cheese board mainly made from rubberwood.
Knives and Forks are stainless steel.
Ceramic cutting board can be taken out and presented separately.
SPECIFICATIONS
1 pc Hard Cheese Knife
1 pc Parmesan Shaver
1 pc Cheese Fork
30 x 20 x 1.5cm rubberwood board with ø15cm ceramic cutting board on top
Cheese knives are made with stainless steel and the handles are made from rubberwood
Packing box size: 32 x 42.5 x 21.2cm
PRODUCT CARE
HAND-WASH BOARD and DRY with a SOFT CLOTH (CAUTION: SHARP KNIFE BLADES & POINTED FORK TIPS)