Elevate Your Wine Experience with the Maitre De Vin® Smart Multi-Function Wine Cooler & Dispenser
Welcome to the world of exquisite wine enjoyment, where the Maitre De Vin® Smart Multi-Function Wine Cooler & Dispenser takes center stage. This remarkable wine aficionado's companion offers a seamless fusion of cutting-edge technology and timeless elegance. Say goodbye to the inconvenience of traditional wine storage and dispensing methods. With the Maitre De Vin®, you can effortlessly preserve, cool, decant, and dispense your favorite wines with unrivaled precision and ease.
A Symphony of Features
Instant Aeration: Elevate Your Senses
Discover the art of instant aeration with the Maitre De Vin® Smart Multi-Function Wine Cooler & Dispenser. As you pour, witness the mesmerizing dance of oxygen gently infusing with your wine, enhancing its flavors and aromas. Every sip becomes an enchanting journey, as the wine unlocks its full potential, right before your eyes.
Peltier Temperature Control: A Precise Chill
Bid farewell to wine that is too warm or overly chilled. The Maitre De Vin® utilizes the advanced Peltier temperature control system, ensuring your wine is always stored at the perfect temperature. From the crisp whites to the robust reds, every bottle can now be indulged in its ideal state, showcasing its unique character and nuances.
Smart Vacuuming: Preserve and Protect
Preserving your favorite wines has never been easier. The Maitre De Vin® incorporates intelligent vacuuming technology, safeguarding the integrity of your cherished bottles. Wave goodbye to the wastefulness of discarded wine and savor the opportunity to relish every last drop of your opened bottles for up to 14 days*. With this exceptional wine cooler and dispenser, spoilage becomes a worry of the past.
No Argon Gas Required: An Environmentally Conscious Choice
In our pursuit of exceptional wine experiences, let us not forget our responsibility to the planet. Unlike traditional wine preservation methods that rely on argon gas, the Maitre De Vin® champions sustainability. By eliminating the need for argon gas, this remarkable device not only safeguards your wine but also contributes to a greener future.
20 Pre-set Wine Types: A World of Possibilities
Indulge in a diverse range of wines with confidence. The Maitre De Vin® caters to every oenophile's desires with its extensive collection of pre-set wine types. From delicate Chardonnays to bold Cabernet Sauvignons, each varietal is treated with the utmost care and precision, allowing you to explore the wide tapestry of wine flavors effortlessly.
2 Independent Temperature Wine Chambers: Perfect Harmony
Embrace the freedom to store and enjoy two different wines simultaneously. With the Maitre De Vin®'s two independent temperature wine chambers, you can cater to your guests' diverse palates or savor your personal favorites at their optimal temperatures. Create a symphony of flavors and embark on a sensory journey, one bottle at a time.
Connect Multiple Units: Expand Your Collection
For the true connoisseur who dreams of an expansive wine collection, the Maitre De Vin® offers the convenience of connectivity. Connect up to five units with a single electric plug, effortlessly expanding your wine storage and dispensing capabilities. It's never been easier to curate a cellar-like experience in the comfort of your own home.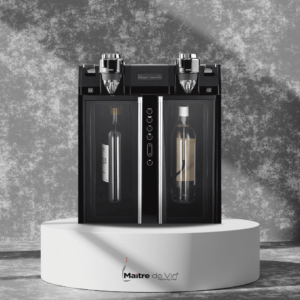 Unlock the Pleasures of Wine with Maitre De Vin®
The Maitre De Vin® Smart Multi-Function Wine Cooler & Dispenser stands as a testament to innovation and sophistication in the realm of wine enjoyment. Embrace the freedom to preserve, cool, decant, and dispense your favorite wines effortlessly. Elevate your wine-tasting experience to new heights, all while indulging in the convenience and elegance of this remarkable device. With the Maitre De Vin® by your side, every pour becomes a symphony, and every sip paints a vivid masterpiece on your palate. Embark on a journey of unparalleled wine exploration and unlock the true pleasures of wine with Maitre De Vin®.
Note: *14-day preservation duration may vary depending on wine type and storage conditions.
Maitre De Vin® Smart Multi-function Wine Cooler and Dispenser satisfies all your wine tasting needs from preservation at the optimal temperature to dispensing with or without aeration. It integrates four functions: cooling, preserving, instant decanting, and dispensing. It can store opened wine for up to 14 days* so that you will no longer waste opened wine because of turning sour.
Maitre De Vin® adopts the Peltier temperature control system and preserves wine by chilling and vacuuming. No argon gas is needed so it could protect the environment as well as save users' money in the long run.
SPECIFICATIONS
Voltage: 220-230 VAC 50/60Hz
Power: Rated: 124W, Max: 139W
Dimension (Machine): 420 (W) x 500 (H) x 280 (D) mm
Weight (Machine): 16 Kg / 35.3 lbs
Working Environment: 80% relative humidity
Min: 12°C / 54°F
Max: 30°C / 86°F
Capacity: 2 bottles; 1 in each chamber
Temperature Range within the Chambers: 7°C / 45°F to 20°C / 68°F
Warranty: 2 years