Discover the Exquisite Alois Lageder Gewürztraminer 2021 750ml
Indulge in the rich flavors and captivating aromas of the renowned Alois Lageder Gewürztraminer 2021 750ml. This exquisite white wine showcases the exceptional craftsmanship and dedication to quality that Alois Lageder is celebrated for. With its unique characteristics and meticulous production process, this Gewürztraminer promises an unforgettable sensory experience.
A Captivating Symphony of Flavors
The Essence of Gewürztraminer
Gewürztraminer, a German variety known for its expressive nature, takes center stage in this exceptional offering from Alois Lageder. With every sip, you'll be captivated by the wine's vibrant personality and enticing range of flavors. The Alois Lageder Gewürztraminer 2021 750ml is a testament to the elegance and complexity this grape variety can achieve.
Crafted with Precision and Expertise
At Alois Lageder, quality is of utmost importance, and the Gewürztraminer 2021 750ml exemplifies the winery's commitment to excellence. The grapes used in crafting this masterpiece are 100% Gewürztraminer, carefully selected from the finest vineyards. Each step of the winemaking process, from maturation on the lees in stainless steel tanks to temperature-controlled fermentation, is meticulously executed to ensure the preservation of the grape's unique characteristics.
Unveiling the Flavors
As you pour a glass of Alois Lageder Gewürztraminer 2021 750ml, prepare to be enveloped by a symphony of enticing flavors. The wine opens with an aromatic bouquet that tantalizes the senses with notes of rose petals, lychee, and exotic spices. On the palate, it delivers a delightful fusion of tropical fruits, such as pineapple and mango, accompanied by a hint of honey. The wine's medium-bodied structure and balanced acidity provide a harmonious drinking experience, while the lingering finish leaves a trail of delicate floral and citrus nuances.
Perfect Pairings
The Alois Lageder Gewürztraminer 2021 750ml is a versatile wine that complements an array of culinary delights. Its aromatic profile and vibrant flavors make it an excellent choice to accompany spicy Asian cuisine, such as Thai or Indian dishes. The wine's inherent sweetness and complexity also make it a delightful partner for a variety of desserts, including fruit tarts, crème brûlée, or even spicy gingerbread.
Specifications and Additional Information
Alois Lageder Gewürztraminer 2021 750ml: At a Glance
Grape: 100% Gewürztraminer
Alcohol by Volume (ABV): 13%
Volume: 750ml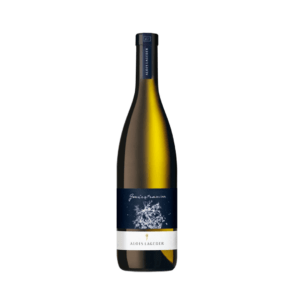 Unveiling the Experience
The Alois Lageder Gewürztraminer 2021 750ml is best served chilled, around 50-54°F (10-12°C), allowing its flavors and aromas to fully express themselves. Whether you're hosting an intimate gathering or simply enjoying a quiet evening, this wine is guaranteed to enhance any occasion with its elegance and charm.
Alois Lageder: A Legacy of Excellence
For over a century, Alois Lageder has been synonymous with exceptional wines that reflect the unique terroir of Alto Adige in northern Italy. This family-owned winery embraces biodynamic practices, nurturing the vineyards and embracing sustainable winemaking methods. The Alois Lageder Gewürztraminer 2021 750ml is a testament to their unwavering commitment to producing wines of unparalleled quality and character.
Elevate Your Wine Experience with Alois Lageder Gewürztraminer
In every sip of Alois Lageder Gewürztraminer 2021 750ml, you'll embark on a sensory journey that showcases the artistry and passion of this esteemed winery. From its alluring aromas to its vibrant flavors, this wine encapsulates the essence of Gewürztraminer in a truly remarkable way. Elevate your wine collection and indulge in a bottle of Alois Lageder Gewürztraminer 2021 750ml – a captivating symphony of flavors that will leave an everlasting impression.