A Refreshing Delight: Falesco Vitiano Vermentino 2021
Welcome to the world of Falesco Vitiano Vermentino 2021, where every sip is a journey through vibrant flavors and captivating aromas. This extraordinary wine, crafted with utmost care and dedication, embodies the essence of Italian winemaking at its finest. Prepare to be enchanted by its bright straw yellow hue, invigorating citrus notes, and a tantalizing taste that strikes the perfect balance between pleasantness and aromatic persistence. Join us as we delve into the captivating story of Falesco Vitiano Vermentino, a true gem among wines.
Discovering the Aromas
A Symphony of Freshness and Citrus
The moment you uncork a bottle of Falesco Vitiano Vermentino 2021, an enchanting bouquet of aromas fills the air. The first whiff reveals a delightful interplay of fresh and citrus notes that dance playfully on your olfactory senses. Picture yourself strolling through a sun-kissed Mediterranean orchard, where the zesty fragrance of ripe lemons and limes wafts through the gentle breeze. With every inhale, you're transported to this idyllic setting, feeling the warmth of the sun on your skin and the invigorating scent tingling your senses.
Unveiling the Taste
A Harmonious Fusion of Pleasure and Persistence
Now, let's embark on a journey of taste, where Falesco Vitiano Vermentino 2021 takes center stage. As you take your first sip, you'll experience a symphony of flavors that captivate your palate. The wine unfolds with a fragrant intensity, offering a delightful balance between pleasure and aromatic persistence. It's as if the flavors are engaged in an elegant dance, swirling and mingling harmoniously on your taste buds.
Imagine the sensation of biting into a succulent, juicy grapefruit on a warm summer afternoon. The vibrant citrus notes of Falesco Vitiano Vermentino 2021 create a similar sensation, refreshing and invigorating. These lively flavors are complemented by subtle hints of other fruits, adding layers of complexity to the overall taste profile. It's an exquisite balance that leaves a lasting impression, inviting you to take another sip and savor the moment.
The Craftsmanship of Falesco Vitiano Vermentino 2021
A Testament to Tradition and Innovation
Falesco Vitiano Vermentino 2021 is the result of generations of winemaking expertise combined with a touch of innovation. The skilled hands of Falesco's winemakers carefully selected the finest Vermentino grapes, grown in the sun-drenched vineyards of Italy. With meticulous attention to detail, these grapes were transformed into a wine that exudes elegance and character.
The winemaking process embraces both tradition and modern techniques, ensuring that Falesco Vitiano Vermentino 2021 reaches its full potential. Fermentation at controlled temperatures preserves the vibrant aromas and flavors, while aging in stainless steel tanks allows the wine to develop its distinct personality. This delicate balance between tradition and innovation is what sets Falesco Vitiano Vermentino apart, creating a truly exceptional wine that captures the essence of its origin.
Pairing Possibilities
Elevate Your Culinary Adventures
Falesco Vitiano Vermentino 2021 is a versatile companion for your culinary adventures. Its invigorating acidity and crispness make it an excellent pairing for a wide array of dishes. Imagine enjoying a plate of fresh seafood, where the briny notes of oysters or the delicate flavors of grilled shrimp are beautifully enhanced by the wine's citrus undertones. It's a match made in culinaryheaven that transports you to the coastlines of Italy with every bite.
For those who prefer vegetarian delights, Falesco Vitiano Vermentino 2021 is equally enchanting. Imagine a vibrant summer salad, adorned with juicy tomatoes, tangy goat cheese, and a drizzle of lemon-infused dressing. The wine's refreshing acidity cuts through the richness of the cheese, elevating the flavors to new heights.
Whether you're indulging in a leisurely lunch or hosting a festive gathering, Falesco Vitiano Vermentino 2021 is the perfect companion. Its versatility knows no bounds, making it a delightful choice for everything from light appetizers to flavorful pasta dishes. Let your culinary imagination soar, and let this remarkable wine be your guide to unforgettable dining experiences.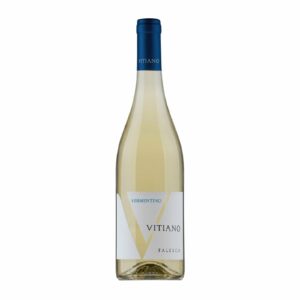 Embark on a Captivating Journey with Falesco Vitiano Vermentino 2021
As we bring our exploration of Falesco Vitiano Vermentino 2021 to a close, it's clear that this wine is a true testament to the artistry of winemaking. From its captivating aromas to its harmonious flavors, every aspect has been carefully crafted to deliver a remarkable sensory experience. With each sip, you're transported to the sun-drenched vineyards of Italy, where passion and tradition intertwine to create liquid poetry.
Falesco Vitiano Vermentino 2021 is not merely a wine; it's an invitation to indulge in life's simple pleasures. Whether you're celebrating a special occasion or enjoying a quiet evening at home, this wine enhances every moment, infusing it with joy and elegance. So raise your glass and embark on a captivating journey with Falesco Vitiano Vermentino 2021, where the bright straw yellow color, fresh citrus notes, and fragrant taste await to enchant your senses. Cheers to the unforgettable moments that lie ahead!