Discover the Captivating Ronan by Clinet Blanc 2019
Indulge in the exquisite allure of Ronan by Clinet Blanc 2019, a remarkable creation by the esteemed winemaking team at Château Clinet in Pomerol. Building upon their stellar reputation garnered by the red Ronan by Clinet, this white counterpart has swiftly emerged as a wine of exceptional distinction. Crafted from the finest vineyards nestled between Saint-Émilion and Sauternes, this superb sauvignon/semillon blend showcases the harmonious fusion of traditional winemaking techniques and the bountiful terroir of Bordeaux.
The Captivating Flavor Profile of Ronan by Clinet Blanc 2019
In a recent blind tasting featuring 20 commendable white Bordeaux wines, Ronan by Clinet Blanc 2019 emerged as the undisputed champion. Its fresh and invigorating character, combined with a full-bodied presence, captures the essence of elegance. Upon the palate, a tantalizing dance of honeyed notes and vibrant citrus fruits unfolds, delivering an exceptional sensory experience. With its balanced and nuanced composition, Ronan by Clinet Blanc 2019 is truly a complete and immensely gratifying white wine.
Acclaim from the Experts
Renowned wine critic Jane Anson of Decanter was captivated by the unique style showcased in Ronan by Clinet Blanc. She describes it as a fascinating creation, characterized by a weighty and rounded profile, making it an ideal complement to Clinet's signature style. Anson notes the rarity of this luxurious white Bordeaux, with its evocative hints of lemon rind and delicate orange blossom. Her glowing recommendation further validates the extraordinary nature of Ronan by Clinet Blanc, propelling it to the forefront of the wine enthusiast's radar.
An Enchanting Blend: Sauvignon Blanc and Semillon
The grape varietals behind Ronan by Clinet Blanc, sauvignon blanc and semillon, lend their unique qualities to create a harmonious symphony of flavors. The semillon contributes a luscious and velvety texture, while the sauvignon blanc imparts a lively vibrancy. This skillful combination produces a wine that transcends expectations, embodying the very essence of the Bordeaux region.
The Bordeaux Terroir: A Journey of Distinction
Situated amidst the esteemed vineyards of Bordeaux, Ronan by Clinet Blanc 2019 draws its identity from the region's renowned terroir. The vineyards, nestled within the highest reaches adorned with limestone and clay, bestow upon the grapes a wealth of character and complexity. The interplay between the distinctive soil composition and the temperate climate of the region creates the perfect conditions for cultivating grapes of exceptional quality, resulting in a wine that truly embodies the essence of Bordeaux.
Raise Your Glass to Ronan by Clinet Blanc 2019
As you embark on a journey of sensory delight with Ronan by Clinet Blanc 2019, you become a witness to the artistry and craftsmanship of the winemaking team at Château Clinet. This exceptional white wine, with its alluring flavors and enchanting aromas, stands as a testament to their dedication and passion. With each sip, you are transported to the terroir of Bordeaux, embracing the legacy of centuries of winemaking tradition. Whether enjoyed on its own or paired with delectable culinary creations, Ronan by Clinet Blanc 2019 promises an unforgettable experience for the discerning palate.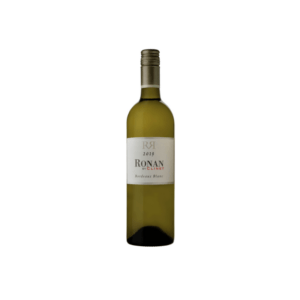 Ronan by Clinet Blanc 2019
The winemaking team at Château Clinet in Pomerol have created a star with their red Ronan by Clinet. Their white Ronan is now not far behind and the 2019 vintage is a superb sauvignon/semillion blend from the highest (limestone and clay) vineyards between Saint-Émilion and Sauternes.
At our recent blind tasting of 20 good quality white Bordeaux, Ronan came out top it was fresh, full-bodied with a touch of honey and citrus fruits. All together a very complete and highly drinkable white wine.
Bravo to Ronan Laborde and his team at Clinet.
What do the critics say?
"This is a very interesting style, fairly weighty and round,… this more luxurious style matches better with the Clinet signature. Its fairly rare to find this style of white Bordeaux, with lemon rind and orange blossom. Recommended." (Review on the previous vintage).
Jane Anson, Decanter
GRAPE: SEMILLON/SAUVIGNON BLANC
REGION: BORDEAUX
COUNTRY: FRANCE
ABV: 13.5%
UNIT: BOTTLE (75CL)