Introducing BVM Umbria La Pava – Macabeo 2021
A Harmonious Symphony of Aromas and Flavours
There's something truly enchanting about the BVM Umbria La Pava – Macabeo 2021. Crafted with utmost care and using 100% Macabeo grapes, this exquisite wine from Yecla, Spain, boasts a remarkable balance of aromas and an extraordinary concentration of fruit. Allow me to take you on a sensory journey through its pale yellow hue, captivating bouquet, delightful flavours, and perfect food pairings.
Colour: Radiant Elegance
The BVM Umbria La Pava – Macabeo 2021 enchants from the moment it catches your eye. Its pale yellow colour shimmers in the glass, exuding a sense of purity and radiance. The clean and translucent appearance is further enhanced by subtle steel highlights, showcasing the wine's refined character.
Bouquet: Aromatic Brilliance
Prepare to be captivated by the aromatic brilliance of this exceptional wine. The nose reveals a captivating medley of intense white fruit, with notes of juicy apple and succulent pear dancing harmoniously. As you explore further, a delicate floral background of Jasmine adds an ethereal touch, while hints of refreshing citrus linger, inviting you to delve deeper into the sensory experience.
Flavour: Fresh and Balanced
When it comes to flavour, the BVM Umbria La Pava – Macabeo 2021 truly shines. With each sip, you're greeted by a refreshing and pleasant palate that delights the senses. The wine's well-balanced nature showcases a perfect interplay between its invigorating freshness and a touch of acidity. It's a symphony of taste, where the Macabeo grapes take center stage, showcasing their vibrant character and leaving a lasting impression.
Food Pairing: An Exquisite Companion
The BVM Umbria La Pava – Macabeo 2021 is a versatile companion for culinary adventures. Its distinct flavour profile allows it to complement an array of dishes, making it an exquisite choice for various occasions. Indulge in its company alongside a plate of cold meats, where the wine's fruit concentration amplifies the savoury notes. Alternatively, pair it with a succulent salmon or grilled fish to witness how the wine's freshness elevates the natural flavours of the seafood. For those who appreciate the ocean's bounty, the BVM Umbria La Pava – Macabeo 2021 is an ideal accompaniment to a delectable selection of seafood. Finally, the wine's well-rounded character finds perfect harmony with the tangy and creamy nuances of goat cheese, offering an unforgettable gastronomic experience.
Embrace the BVM Umbria La Pava – Macabeo 2021 Experience
In the heart of Yecla, a truly remarkable wine is born. BVM Umbria La Pava – Macabeo 2021 encapsulates the artistry and passion of its creators. From its enticing aroma to its refreshing flavour and perfect balance, every sip transports you to the sun-soaked vineyards of Spain. Whether you're a seasoned wine enthusiast or embarking on your first oenological adventure, this extraordinary creation promises an experience that will leave you enchanted. Celebrate life's moments with the BVM Umbria La Pava – Macabeo 2021 and allow its captivating charm to infuse your palate with joy.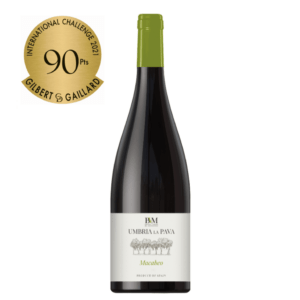 Notes
Using 100% Macabeo, this well-balanced Yecla beauty is characterized by aromatic intensity and great fruit concentration.
Colour
Pale yellow colour, clean, with steel highlights.
Bouquet
Intense white fruit on the nose (apple, pear), with a floral background (Jasmine) and citrus hints.
Flavour
On the palate, it is fresh and pleasant, with a good acidity and balance.
Food Pairing
Cold meats, salmon, grilled fish, seafoods, goat cheese.