BVM Umbria La Pava – Syrah 2020: A Wine Maven Masterpiece
Indulge in the exquisite flavors of the BVM Umbria La Pava – Syrah 2020, a remarkable creation by Wine Maven. Crafted with 100% Syrah grapes, this wine captivates with its well-balanced nature, aromatic intensity, and a delightful concentration of fruit.
A Symphony of Colors
The BVM Umbria La Pava – Syrah 2020 unveils itself with a mesmerizing cherry red hue of medium intensity, adorned with alluring violet shines. This visual masterpiece sets the stage for the delightful experience that awaits.
A Bouquet to Remember
Prepare to be swept away by the intense aromas that dance from the glass. With each swirl, the BVM Umbria La Pava – Syrah reveals captivating notes of dark berries, notably the enchanting essence of blackberry. The bouquet alone will have your senses enticed, eagerly anticipating the first sip.
Flavours That Mesmerize
The true magic of the BVM Umbria La Pava – Syrah 2020 lies within its flavor profile. On the palate, this wine unveils a tantalizing journey of taste. Its rich, well-structured character brings together a symphony of flavors. The soft tannins provide a velvety texture that glides effortlessly across the tongue. Balanced acidity uplifts the overall experience, ensuring a harmonious and pleasurable sensation with every sip.
A Culinary Adventure
Pairing the BVM Umbria La Pava – Syrah 2020 with the right dishes enhances its already remarkable qualities. This versatile wine complements a variety of culinary delights. Consider it the perfect companion to rice dishes, whether it be a flavorful biryani or a delicate risotto. When it comes to meat, both white and red varieties find harmony alongside this Syrah beauty. The wine's unique characteristics also elevate the experience of savoring semi-cured cheeses, enriching their creamy and nutty profiles. Even a simple plate of pasta can be transformed into a gastronomic delight when accompanied by this exceptional wine.
Unleashing Your Inner Wine Maven
The BVM Umbria La Pava – Syrah 2020 embodies the artistry and passion of Wine Maven. With its engaging complexity, this wine appeals to both seasoned connoisseurs and those embarking on their wine journey. Whether it's an intimate gathering, a celebratory event, or a quiet evening at home, this Syrah masterpiece adds an element of sophistication and elegance to any occasion.
Experience the BVM Umbria La Pava – Syrah 2020
Embark on a sensory adventure with the BVM Umbria La Pava – Syrah 2020. Indulge in its captivating colors, savor its enticing bouquet, and delight in its harmonious flavors. Allow this wine to elevate your dining experiences, turning ordinary moments into extraordinary memories. Wine Maven invites you to discover the allure of the BVM Umbria La Pava – Syrah 2020, an experience that will leave you yearning for more.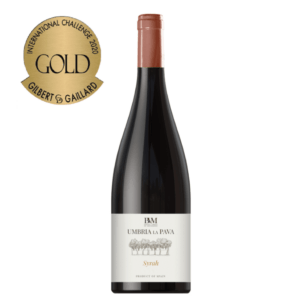 Notes
Using 100% Syrah, this well-balanced Yecla beauty is characterized by aromatic intensity and great fruit concentration.
Colour
Cherry red color of medium intensity with violet shines.
Bouquet
Intense aromas of dark berries (blackberry).
Flavour
On the palate, it is tasty, well-structured, with soft tannins and balanced acidity.
Food Pairing
Rice, white or red meat, semi –cured cheese and pasta