The Captivating Manuel Manzaneque Nuestro Syrah 2006
Unveiling the Essence of Manuel Manzaneque Nuestro Syrah
Indulge in the captivating allure of Manuel Manzaneque Nuestro Syrah 2006, an exquisite wine that beckons with its bright and intensive ruby red hue, adorned by a charming purple border. This remarkable creation from the esteemed Manuel Manzaneque winery transports wine enthusiasts to a realm of sensory delight.
A Symphony of Aromas: Red Fresh Fruit and Subtle Nuances
Prepare to be tantalized by the captivating aroma that emanates from every glass of Manuel Manzaneque Nuestro Syrah. This enticing bouquet is marked by an intoxicating blend of red fresh fruits, with nuances of cassis, blackberry, and raspberry dancing upon the senses. Delicate mineral and spice touches, reminiscent of pepper and rosemary, further enhance the olfactory journey. As the layers unfold, subtle notes of liquorice, cacao, and vanilla add a touch of decadence to this already captivating symphony of scents.
A Palate of Pleasure: Fleshy, Round, and Exquisite
Once the wine graces your palate, you will be greeted by an exquisite sensory experience. Manuel Manzaneque Nuestro Syrah envelops the mouth with its fleshy and round texture, leaving a lasting impression that lingers on the taste buds. The well-balanced fusion of fruit and wood elements delights the senses, showcasing the wine's profound complexity. A strong mineral character adds a unique dimension to the wine, imparting an air of elegance and refinement.
Unveiling the Vintage Secret
Nature's Gift: The Magic of Maturation
What sets Manuel Manzaneque Nuestro Syrah 2006 apart is the unique terroir from which it originates. Nestled at an altitude of 1080 meters, the vineyards benefit from the significant temperature differences between day and night during the maturation period. This climatic phenomenon grants the wine its concentrated nature, ensuring that every sip is a revelation. The interplay between the sun's warm embrace and the cool nights imparts an exceptional quality to the vintage, making Manuel Manzaneque Nuestro Syrah a true embodiment of nature's artistry.
The Symphony Unveiled: Complexity and Balance
With every sip, Manuel Manzaneque Nuestro Syrah 2006 unveils its symphony of flavors, inviting you to explore its remarkable complexity. The wine's long aftertaste, marked by an exquisite balance of fruit and wood, reveals the meticulous craftsmanship behind its creation. Each element harmoniously interweaves, creating a wine that is as refined as it is captivating. From the first encounter to the lingering finish, this vintage captivates the senses and leaves a lasting impression.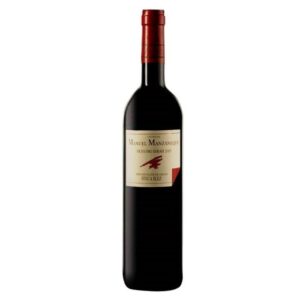 A Journey of Elegance and Intensity
Manuel Manzaneque Nuestro Syrah 2006: A Wine of Distinction
In the realm of exceptional wines, Manuel Manzaneque Nuestro Syrah 2006 stands tall, its vibrant character and impeccable craftsmanship capturing the hearts of wine aficionados worldwide. From its intense ruby red color to its captivating aroma and its fleshy, round palate, this wine embodies elegance and intensity in every sip. The profound complexity, balanced fruit-wood fusion, and strong mineral character elevate it to a realm of true distinction.
Embark on a Sensory Adventure
Whether you are a seasoned connoisseur or an avid enthusiast, Manuel Manzaneque Nuestro Syrah 2006 promises an unforgettable sensory adventure. With each sip, immerse yourself in the enchanting tale woven by the skilled hands of the Manuel Manzaneque winemakers. Let this exceptional wine guide you through a world of captivating aromas, delightful flavors, and a symphony of sensations that will leave you yearning for more. Discover the essence of Manuel Manzaneque Nuestro Syrah 2006—a vintage that transcends time and embodies the true artistry of winemaking.