[vc_row][vc_column width="5/6″][vc_column_text woodmart_inline="no" text_larger="no"]
Discover the Elegance of Chateau Labarthe Wine
Indulge in the exquisite flavors of Chateau Labarthe, a captivating wine that emanates deep ruby hues and entices your senses with its complex aromas. Made in the renowned AOC Bordeaux region of France, this wine showcases the artistry and passion of winemaking that has been perfected over generations. With a harmonious blend of Merlot and Cabernet Franc grape varieties, Chateau Labarthe is an exceptional choice for wine enthusiasts seeking a truly memorable experience. Join us on a journey through the vineyards and taste the essence of this remarkable wine.
Unveiling Chateau Labarthe
AOC Bordeaux: The Heartland of Wine
Nestled in the South of Gironde, where the picturesque l'entre-deuxmers meets the boundary of Lot et Garonne, lies the esteemed Chateau Labarthe. This enchanting vineyard is situated in the prestigious AOC Bordeaux region, a land celebrated for its rich viticultural heritage and exceptional wines. With its favorable terroir and dedication to crafting wines of utmost quality, Chateau Labarthe stands as a testament to the region's winemaking prowess.
The Perfect Blend
Merging Merlot and Cabernet Franc in Harmony
Chateau Labarthe's allure stems from its harmonious blend of 50% Merlot and 50% Cabernet Franc grape varieties. This carefully balanced composition creates a wine that captivates both connoisseurs and novices alike. The velvety smoothness of Merlot combines flawlessly with the structured elegance of Cabernet Franc, resulting in a symphony of flavors that dance across the palate.
A Sensory Symphony
Immerse Yourself in a Tapestry of Aromas
Prepare to be enchanted by the beguiling aromas that waft from a glass of Chateau Labarthe. As the wine swirls and releases its bouquet, your senses are greeted with a captivating blend of red fruits, tantalizingly mingled with toasted and roasted notes. The nose reveals the intricate layers of complexity that make this wine truly exceptional.
A Journey for the Palate
Silky Smoothness and Thick Tannins
Upon savoring Chateau Labarthe, your palate is embraced by a delightful elegance that comes from its silky yet substantial tannins. The wine's graceful mouthfeel reveals a symphony of flavors, where each sip tells a story of expertise and dedication. From the first taste to the lingering finish, Chateau Labarthe showcases a remarkable balance between depth and finesse.
Perfect Pairings
Elevate Your Culinary Experience
Chateau Labarthe's versatility extends beyond the glass, making it an ideal companion for a wide range of culinary delights. Pair this exceptional wine with succulent cuts of beef, allowing the robust flavors to intertwine and elevate your dining experience. Indulge in the symphony of tastes that emerges when savoring Chateau Labarthe alongside a selection of fine cheeses. For those with a penchant for poultry, the roasted flavors of Chateau Labarthe effortlessly complement dishes featuring roasted poultry, creating an exquisite harmony on the palate.
Service and Enjoyment
The Art of Temperature
To fully appreciate the nuances of Chateau Labarthe, serve this remarkable wine at a temperature between 16°C and 18°C. This ideal serving temperature ensures that the flavors and aromas are showcased in their truest form, allowing you to immerse yourself fully in the delightful experience that awaits within each bottle.
Embark on a Journey of Enchanting Flavors
Chateau Labarthe invites you to embark on a captivating journey through the vineyards of Bordeaux, where the art of winemaking has been perfected over centuries. With its deep ruby color, complex aromas, and elegant mouthfeel, this wine is a testament to the passion and dedication that goes into every bottle. Whether you're indulging in a fine cut of beef, relishing in the flavors of exquisite cheeses, or savoring the roasted delights of poultry, Chateau Labarthe promises an unforgettable experience that will leave a lasting impression. Raise your glass and let the symphony of flavors transport you to the heartland of wine.[/vc_column_text][/vc_column][vc_column width="1/6″][vc_column_text woodmart_inline="no" text_larger="no"]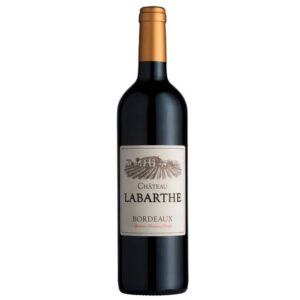 Region 地區
AOC Bordeaux, France 波爾多, 法國
Location 地理位置
The Chateau Labarthe is located in the South of Gironde, in the continuation of l'entre-deuxmers, at the boundary of Lot et Garonne.
位於吉倫特(Gironde)南部,坐落在加龍河邊界的 l'entre-deux-mers 的延伸區。
Grape Variety 葡萄品種
50% Merlot, 50% Cabernet Franc
50% 梅洛, 50% 品麗珠
Tasting Notes 酒評
Deep ruby colour, this wine offers a nose with complex aromas of red fruits, mingled with toasted and roasted notes. The elegant mouth is based on silky but also thick tannins. The final turns to be fresh and aromatic.
深紅寶石色,這款酒具有濃郁的紅色水果香氣,融合了烤製和烤製的香氣。優雅的口感基於柔滑而又厚實的單寧。最後變成了新鮮和芳香。
Food Pairing 配襯食品
Beef and cheese but also roasted poultry
牛肉和芝士,還有烤禽
Service 飲用溫度
16° – 18°C[/vc_column_text][/vc_column][/vc_row]