Discover the Enchanting Elixir: Manuel Manzaneque Escena 2007
Indulge in the exquisite allure of Manuel Manzaneque Escena 2007, a wine that captivates the senses with its intense cherry color, dark and blue rim, and a remarkable cleanliness and brightness. As you uncork a bottle of this exceptional vintage, prepare to embark on a sensory journey that unveils a symphony of flavors and aromas, expertly crafted by the hands of seasoned winemakers. Manuel Manzaneque Escena 2007 is a testament to the perfect fusion of terroir and tradition, offering a wine experience that is both profound and memorable.
Unveiling a Tapestry of Aromas and Flavors
Aromatic Symphony: Red Fruits, Violets, and Oak Coast Notes
Prepare to be enchanted by the aromatic symphony that emanates from Manuel Manzaneque Escena 2007. This remarkable wine boasts a deep and intense mineral character that transports you to the heart of its special terroir. With every sip, your taste buds will revel in the vibrant essence of red fruits, including cherries, strawberries, blackberries, and black currants. These luscious flavors intertwine harmoniously with the delicate notes of violets, creating a bouquet that is both captivating and alluring.
Moreover, Manuel Manzaneque Escena 2007 embraces the essence of new oak coast notes, seamlessly blending them with the red fruit profile. As you savor the wine, you'll detect hints of balsamic, chocolate, coffee, and tobacco, adding depth and complexity to its already enchanting nature. Each aroma is like a brushstroke on a canvas, painting a picture of indulgence and refinement.
The Opulent Palate: Fleshy, Concentrated, and Well-Balanced
When Manuel Manzaneque Escena 2007 dances on your tongue, you'll be greeted by a wine that is fleshy, concentrated, and exquisitely well-balanced. The combination of ripe fruit flavors, subtle tannins, and a specially lingering finish creates a symphony of sensations that will leave you yearning for more. The sweet tannins caress your palate, while the wine's well-structured body offers a luxurious mouthfeel.
The Art of Winemaking: A Testament to Terroir and Tradition
From Soil to Cellar: The Journey of Manuel Manzaneque Escena
Manuel Manzaneque Escena 2007 is the epitome of winemaking mastery, a culmination of skill and dedication that begins in the vineyards and concludes in the cellar. The vines responsible for this exceptional vintage thrive in the cool and meager soils, located at an astounding altitude of 1080 meters above sea level. It is within this challenging environment that the grapes develop their unique personality, bestowing Manuel Manzaneque Escena 2007 with its extraordinary character.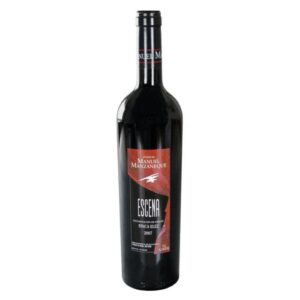 This premium wine is meticulously crafted using the oldest tempranillo vines, showcasing the richness that comes with age and maturity. Additionally, a careful proportion of Cabernet Sauvignon adds depth and complexity, elevating Manuel Manzaneque Escena 2007 to new heights of excellence. The result is a wine that exemplifies the artistry of winemaking and pays homage to the profound influence of terroir.
The Gift of Time: Aging and Decanting
Manuel Manzaneque Escena 2007 is a wine that embraces the beauty of time. This long-aging wine is a testament to patience and dedication, as it spends years maturing in the cellar, unlocking layers of complexity and refinement. Each bottle represents a piece of art, a symphony of flavors that has been carefully composed and nurtured.
To fully appreciate the splendor of Manuel Manzaneque Escena 2007, it is recommended to decant the wine at least one hour before serving. This act of decanting allows the wine to breathe, awakening its true potential and ensuring that every sip is an experience to be savored.
A Wine Worthy of Admiration: Manuel Manzaneque Escena 2007
Manuel Manzaneque Escena 2007 is a testament to the dedication, passion, and artistry that go into crafting a truly remarkable wine. From its intense cherry color to its fleshy and well-balanced palate, every aspect of this wine is a testament to the beauty of terroir and tradition.
As you indulge in a glass of Manuel Manzaneque Escena 2007, you'll discover a wine that takes you on a journey through the senses, unveiling layers of flavor and aroma that leave an indelible impression. It is a wine that captures the essence of its origins and celebrates the harmony between nature and the human touch.
Savor the splendor of Manuel Manzaneque Escena 2007, and allow yourself to be transported to a world of unparalleled elegance and sophistication. This wine is more than a mere beverage; it is an experience that will linger in your memory, a testament to the beauty and artistry of winemaking.