Parent Corton Grand Cru Renardes: A Majestic Expression of Excellence
Embrace the Magnificence of Parent Corton Grand Cru Renardes
Indulge in the exquisite and unparalleled experience offered by the renowned Parent Corton Grand Cru Renardes. Prepare to embark on a sensory journey that will transport you to the enchanting vineyards of Burgundy, France. This exceptional wine stands as a testament to the artistry and dedication of the winemakers at Parent, who have tirelessly crafted a masterpiece worthy of celebration.
The Birth of Brilliance: Unraveling the Tale
Parent Corton Grand Cru Renardes emerges from the hallowed vineyards nestled in the heart of Burgundy, where centuries-old traditions intertwine with innovation. These esteemed vineyards boast a unique terroir that breathes life into the grapes, imparting a distinct character that is unmistakably Corton Grand Cru Renardes.
A Symphony of Flavors: Unleashing the Palate
Prepare for a symphony of flavors as you savor every sip of Parent Corton Grand Cru Renardes. This wine effortlessly captures the essence of its terroir, offering a harmonious fusion of ripe cherries, succulent red berries, and a hint of dark chocolate. Each mouthful unfolds with grace, revealing layers of complexity and a velvety texture that caresses the palate.
The Dance of Aromas: Whispers of Elegance
As the crimson elixir dances within the glass, the tantalizing bouquet of Parent Corton Grand Cru Renardes captivates the senses. Inhale deeply, and be greeted by enchanting aromas of freshly picked violets, delicate spices, and a subtle earthiness. This captivating symphony of scents sets the stage for the exceptional tasting experience that awaits.
A Grand Cru Experience: Elevating Moments
Every bottle of Parent Corton Grand Cru Renardes is an invitation to elevate your most cherished moments. Imagine the delight of sharing this wine with loved ones during a decadent feast, as lively conversations fill the air and laughter echoes through the room. It is in these precious moments that the true magic of Parent Corton Grand Cru Renardes comes alive, forging lasting memories and treasured bonds.
Crafting Perfection: The Mastery Behind the Wine
Behind every sip of Parent Corton Grand Cru Renardes lies the relentless pursuit of excellence by the winemakers at Parent. Meticulously hand-harvested, the grapes undergo a rigorous selection process, ensuring that only the finest fruit is chosen for this remarkable wine. Patiently aged in oak barrels, the wine matures gracefully, allowing its distinct personality to fully develop.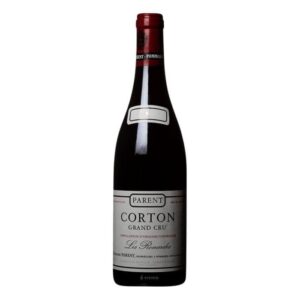 Embracing the Extraordinary: Unlocking the Cellar Potential
While Parent Corton Grand Cru Renardes is a joy to indulge in now, its remarkable structure and balance allow it to gracefully evolve with time. For those who appreciate the splendor of aged wines, the cellar potential of Parent Corton Grand Cru Renardes is nothing short of extraordinary. With each passing year, this wine will continue to unveil new dimensions, rewarding those who possess the patience to allow it to reach its full potential.
A Legend in Every Sip
In every bottle of Parent Corton Grand Cru Renardes, a legend is encapsulated—a testament to the unwavering commitment to quality and the timeless elegance that defines the wines of Burgundy. Elevate your wine collection with this majestic Grand Cru, and immerse yourself in a world of sensory marvels. With Parent Corton Grand Cru Renardes, every sip is an invitation to savor life's most extraordinary moments, embracing the sheer magnificence that resides within each glass.