Discover the Essence of Manuel Manzaneque Nuestra Selección 2004
Unveiling the Secrets of a Vintage Gem
Welcome to the captivating world of Manuel Manzaneque Nuestra Selección 2004, a wine that embodies the epitome of excellence and artistry. Crafted with utmost care and precision, this remarkable creation showcases the true essence of winemaking mastery. Join us on a sensory journey as we explore the depths of flavors and aromas offered by this exceptional vintage.
A Symphony of Senses Unveiled
Impeccable Appearance: A Treat for the Eyes
Indulge your visual senses as you behold the Manuel Manzaneque Nuestra Selección 2004. Immaculately clean and brilliantly bright, it entices with a cherry red hue complemented by a delicate violet edge. This harmonious blend of colors sets the stage for a wine that promises elegance and sophistication from the very first glance.
An Aromatic Overture: A Bouquet That Dances on the Nose
Prepare to be enchanted by the enchanting scents that waft from the glass. As you bring the Manuel Manzaneque Nuestra Selección 2004 closer to your nose, a symphony of aromas unfolds. Delight in the dominant notes of luscious red fruits, such as raspberries and strawberries, that caress your senses. These vibrant flavors intertwine with subtle mineral nuances and delicate floral touches, creating a fragrant masterpiece. As the symphony continues, hints of toasted spices, coffee, and cacao emerge, adding depth and complexity to the wine's olfactory composition.
A Palate Pleaser: Where Harmony and Complexity Meet
Prepare your taste buds for a truly remarkable experience. The Manuel Manzaneque Nuestra Selección 2004 impresses with its impeccable structure and formidable presence on the palate. Potent and fleshy, it leaves a lasting impression with its perfectly matured sweet tannins. The delicate balance between alcohol and acidity elevates this wine to new heights, ensuring a pleasurable and memorable tasting experience.
The Dance of Flavors: A Symphony of Taste
As the Manuel Manzaneque Nuestra Selección 2004 dances across your tongue, a tapestry of flavors unfolds. The enchanting aromas that greeted your nose find their way to your palate, revealing a harmonious blend of red currants and impeccably balanced lactic notes. The balsamic notes from the barrel intertwine with tantalizing spice, delicate hints of toast, rich cacao, and the subtle allure of liquorice. This delightful medley of flavors takes you on a journey through complexity and elegance, offering a sip that captivates with each and every drop.
A Wine with Character: The Essence of Finca Elez
Manuel Manzaneque Nuestra Selección 2004 is a wine that proudly carries the distinctive personality of Finca Elez. Nestled at an impressive elevation of 1100 meters, these remarkable vineyards impart their unique qualities to this exceptional vintage. The secret lies in the vineyard's pour soils, which contribute to the wine's distinct charm and character. The result is an elegant and complex creation that pays homage to its origin while captivating wine enthusiasts worldwide.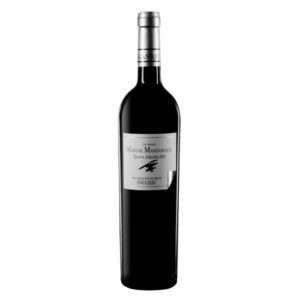 Unleash Your Senses with Manuel Manzaneque Nuestra Selección 2004
An Unforgettable Journey Awaits
In the world of fine wines, Manuel Manzaneque Nuestra Selección 2004 reigns supreme. From its captivating appearance to its enchanting bouquet and unforgettable flavors, this vintage gem leaves an indelible mark on all who have the pleasure of savoring it. Each sip tells a story, and with every glass, you embark on a sensory journey that immerses you in the artistry and passion of winemaking. Discover the essence of Manuel Manzaneque Nuestra Selección 2004, and let its brilliance captivate your senses.
Manuel Manzaneque Nuestra Selección
Appearance
The wine has a clean and bright cherry red color with a violet edge.
Aroma
It has a clean and honest aroma, with a dominant sweetness of red fruits like raspberry and strawberry. There are also clear mineral and floral notes, with a touch of toast and spice followed by hints of coffee and cacao.
Structure
The wine is pleasant and well-structured in the mouth, with a powerful and fleshy feel. The tannins are sweet and well-matured, and there is a very good balance between alcohol and acidity. The wine showcases freshness and has a good amount of glycerine.
Flavor
In the mouth, you can find some of the aromas detected in the nose, such as redcurrants and lactic notes that are well-balanced with the balsamic notes from the barrel. There are also spice notes, toast, cacao, and liquorice flavors.
Personality
This wine is elegant and complex, with a distinct Finca Elez personality. It is characterized by its unique terroir, with vineyards located at 1100 meters high on poor soils.