Discover the Essence of Viña Quintay Pinot Noir 2014
Unveiling the Intriguing Flavors of Viña Quintay Pinot Noir 2014
Welcome to Wine Maven, where we embark on a captivating journey through the world of fine wines. Today, we invite you to indulge your senses in the unmistakable allure of Viña Quintay Pinot Noir 2014. This exceptional creation hails from the renowned Casablanca Valley, a land blessed with the perfect blend of nature's elements. Brace yourself for an extraordinary experience as we delve into the main characteristics and unique story behind this exquisite wine.
The Terroir: Where Nature Paints Its Finest Canvas
A Symphony of Elements in the Casablanca Valley
The Casablanca Valley, nestled in the heart of Chile, boasts an enviable location that captivates both winemakers and wine enthusiasts alike. It is here, where the dance between earth, wind, and ocean creates an enchanting terroir that breathes life into every grape. Viña Quintay Pinot Noir 2014 is a testament to the harmony found in this valley's mesmerizing landscape.
Caressed by the Pacific Breeze
As the cool breeze from the nearby Pacific Ocean gently caresses the vineyards, the magic begins to unfold. The grapes of Viña Quintay Pinot Noir 2014 relish in this coastal embrace, ripening at a leisurely pace. This slow maturation process allows the flavors and aromas to develop gradually, ensuring an unparalleled depth and complexity that defines this remarkable wine.
Tasting Notes: A Symphony of Aromas and Flavors
Unveiling the Essence of Pinot Noir
Viña Quintay Pinot Noir 2014 is a true embodiment of its varietal, offering a sensory journey through its enchanting aromas and captivating flavors. With each sip, you'll find yourself transported to a realm of pure delight.
A Bouquet That Charms the Senses
Upon first encounter, the wine greets your nose with an intoxicating bouquet. Delicate notes of ripe cherries and strawberries dance harmoniously, inviting you to explore further. Hints of earthy spices and a whisper of floral essence add layers of intrigue to this olfactory masterpiece.
The Palate's Captivating Symphony
As the wine graces your palate, its symphony of flavors unfolds. The luscious red fruits, cherries, and raspberries take center stage, providing a burst of vibrant juiciness. Subtle undertones of vanilla and oak bring a gentle warmth, while a hint of earthiness adds a touch of complexity. The well-balanced acidity elegantly weaves through the tasting experience, leaving a lasting impression that beckons for another sip.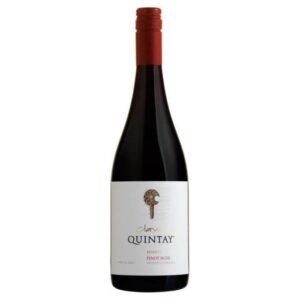 Viña Quintay Pinot Noir 2014: A Versatile Delight
A Wine for Every Occasion
Viña Quintay Pinot Noir 2014 is an incredibly versatile companion for a myriad of occasions. Its finesse and elegance make it a delightful choice for intimate gatherings or romantic evenings. It effortlessly elevates your favorite dishes, from succulent roasted chicken to savory grilled salmon. With its enchanting character, this wine weaves magic into any moment it graces.
Embracing the Viña Quintay Legacy
Viña Quintay Pinot Noir 2014 is more than a wine; it is a testament to the unwavering commitment and passion of the winemakers behind its creation. Each bottle encapsulates the dedication and expertise that have been passed down through generations. It is a celebration of the Quintay legacy, a mark of excellence that echoes in every sip.
Unleash Your Senses with Viña Quintay Pinot Noir 2014
A Journey Worth Embarking On
As we conclude our exploration of Viña Quintay Pinot Noir 2014, we invite you to embark on your own adventure. Let this wine take you on a sensory voyage, revealing the secrets of the Casablanca Valley with every sip. Immerse yourself in the captivating aromas, savor the enchanting flavors, and relish in the magic that only this exceptional wine can offer. Viña Quintay Pinot Noir 2014 is an invitation to experience the essence of the land, the artistry of winemaking, and the pure joy of indulging in a truly remarkable wine. Cheers to an unforgettable journey!