[vc_row][vc_column width="1/2″][vc_column_text woodmart_inline="no" text_larger="no"]
Discover the Exquisite Elegance of Manuel Manzaneque Lorena 2007
Welcome to Wine Maven, where we take pleasure in presenting you with remarkable wines that embody the essence of craftsmanship and excellence. In our pursuit of the finest wines, we have come across an extraordinary gem that demands your attention: Manuel Manzaneque Lorena 2007. This distinguished creation combines the artistry of winemaking with the distinct terroir of its origin, resulting in a wine that captivates the senses and delights the palate.
Unveiling the Essence
A Symphony of Flavors and Aromas
Manuel Manzaneque Lorena 2007 is a testament to the harmonious marriage between nature's gifts and the winemaker's expertise. Nestled at an elevation of 1,080 meters, where the thermal oscillation between day and night is substantial, this wine benefits from the exceptional climatic conditions that define its terroir. The cool nights, in particular, contribute to an extended and thorough maturation process, allowing for the development of exquisite freshness and captivating aromas.
A Visual Feast
With a captivating ruby color that dances in the glass, Manuel Manzaneque Lorena 2007 entices the eyes even before the first sip. Its brilliance and clarity are a testament to the meticulous attention to detail that goes into every bottle. This wine exemplifies the art of visual allure, setting the stage for an exceptional tasting experience.
An Aromatic Journey
As the wine graces your olfactory senses, a symphony of aromas unfolds. Manuel Manzaneque Lorena 2007 boasts a delightful bouquet, skillfully blending the fragrances of ripe red fruits with the subtle presence of well-integrated wood. The essence of minerals, reminiscent of the clay-rich soils in which the vines thrive, adds depth and complexity. Intriguing hints of spice dance in harmony, enticing you to explore further.
A Palate-Pleasing Revelation
When it comes to the taste, Manuel Manzaneque Lorena 2007 delivers a revelation that is both pleasant and smooth. The wine caresses the palate with its well-structured character, leaving a lasting impression. Balancing fruit and wood with precision, it offers a captivating interplay of flavors that is sure to captivate discerning wine enthusiasts. With each sip, the symphony of spices tantalizes the taste buds, creating a truly memorable experience.[/vc_column_text][/vc_column][vc_column width="1/2″][vc_column_text woodmart_inline="no" text_larger="no"]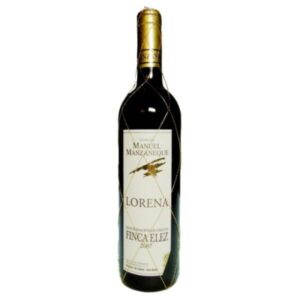 The Lingering Grand Finale
As you savor the final moments of your encounter with Manuel Manzaneque Lorena 2007, you'll discover its remarkable ability to leave a lasting impression. The wine's long and round finish is a testament to the meticulous craftsmanship and artistry involved in its creation. The symphony of flavors and aromas gracefully fade, bidding you farewell until your next rendezvous.
Unveil a Hidden Gem with Manuel Manzaneque Lorena 2007
In the realm of fine wines, Manuel Manzaneque Lorena 2007 stands tall as an embodiment of elegance, complexity, and sheer delight. Its journey from vine to bottle is one of devotion and meticulous care, resulting in a wine that exceeds expectations. With its alluring aromas, well-balanced flavors, and lingering finish, this wine offers a truly captivating experience for the discerning palate. Indulge in the magic of Manuel Manzaneque Lorena 2007, and let it transport you to a realm where every sip is a celebration of the extraordinary.[/vc_column_text][/vc_column][/vc_row]