The Refined Elegance of Parent Pommard Croix Blanche
A Timeless Treasure from Anne Parent's Family Estate
Welcome to the world of fine wines, where history and craftsmanship converge to create extraordinary experiences. Today, we embark on a journey to discover the exquisite nuances of Parent Pommard Croix Blanche, an opulent and bold red Burgundy that epitomizes the artistry of winemaking. Crafted by Anne Parent, the twelfth-generation custodian of her family estate, this exceptional wine is a testament to their unwavering commitment to excellence.
Unveiling the Essence of Pommard Croix Blanche
Nestled in the heart of Burgundy, France, Anne Parent's family estate has been a sanctuary for winemaking traditions for generations. With utmost care and respect for the land, every vine is tended to by hand, ensuring the highest quality of fruit. The Parent Pommard Croix Blanche is no exception, as it is meticulously crafted from hand-harvested, fully-destemmed grapes, allowing the true expression of the terroir to shine.
The Captivating Symphony of Flavors
A Tapestry Woven by Native Yeasts
When it comes to winemaking, Anne Parent believes in letting nature take its course. The grapes destined for Parent Pommard Croix Blanche undergo fermentation with native yeasts, a testament to the estate's dedication to preserving the wine's authentic character. This traditional approach enhances the wine's complexity, infusing it with a symphony of flavors that unfold with each sip.
A Rich Bouquet of Aromas
Parent Pommard Croix Blanche invites you to indulge in its captivating bouquet of aromas. On the nose, you will encounter a melange of dark cherries, ripe plums, and blackberries, dancing harmoniously with delicate hints of vanilla and spices. These scents entwine to create a sensory experience that captivates both connoisseurs and novices alike.
A Velvety Embrace for the Palate
As the wine graces your palate, you will be enveloped in its velvety texture, experiencing a symphony of flavors that unfolds with finesse. Dark fruits continue to reign, accompanied by a subtle touch of earthiness that adds depth and complexity. The wine's well-integrated tannins provide structure, while its vibrant acidity ensures a balanced and harmonious taste from start to finish.
A Wine of Enduring Legacy
A Cellaring Potential: Treasure for the Ages
Parent Pommard Croix Blanche is not merely a wine of the moment; it is an investment in the future. Possessing remarkable aging potential, this Burgundy beauty can gracefully evolve over the years, unveiling new dimensions and reaching its zenith with time. If you have the patience and foresight, cellar this exceptional wine, and you will be rewarded with an unparalleled sensory experience for decades to come.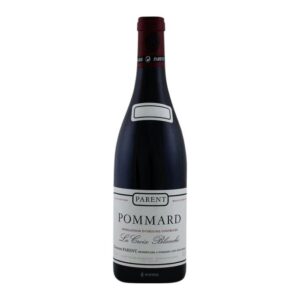 A Versatile Companion: Decant and Enjoy
While the allure of aging Parent Pommard Croix Blanche is tempting, it is equally enchanting when savored in its youth. Decanting this exceptional wine allows it to breathe, unlocking its flavors and aromas to their fullest potential. Whether you choose to enjoy it now or lay it down, this versatile wine promises a moment of indulgence, whether shared with loved ones or cherished in solitary contemplation.
A Testament to Time-Honored Craftsmanship
Parent Pommard Croix Blanche: A Journey Unforgettable
In the realm of winemaking, few wines possess the ability to leave an indelible mark on one's senses. Parent Pommard Croix Blanche, crafted by Anne Parent, is an extraordinary testament to the legacy of her family estate. From the vine to the glass, this wine encapsulates the artistry and dedication that have been passed down through twelve generations. With every sip, you embark on a sensory journey that celebrates tradition, elegance, and the enduring magic of Burgundy.
As you explore the velvety texture, the enticing aromas, and the symphony of flavors that unfold, Parent Pommard Croix Blanche becomes an experience that transcends time. So, uncork a bottle, pour yourself a glass, and let this extraordinary wine transport you to the vineyards of Burgundy, where centuries of heritage are bottled and waiting to be discovered.