Discover the Exquisite Pleasure of Leoube Collector Grand Vin
Leoube Collector Grand Vin, a true gem among red wines, has finally emerged after a decade of meticulous testing and maturation. This limited release captures the essence of excellence, presenting a full-bodied masterpiece that is sure to captivate wine enthusiasts. With its enchanting bouquet of black fruits and a luscious fusion of flavors highlighted by the indulgence of black cherries, Leoube Collector Grand Vin is an extraordinary creation that surpasses all expectations. Join us on a journey to unravel the story behind this remarkable wine.
The Origins of Leoube Collector Grand Vin
A Legacy of Dedication and Perseverance
The story of Leoube Collector Grand Vin begins with a winemaking tradition deeply rooted in passion and expertise. Nestled in the heart of Provence, France, Château Leoube boasts a rich history dating back generations. It is a place where nature's bountiful gifts meet the dedication of skilled artisans, resulting in exceptional wines that capture the essence of their terroir.
Meticulous Testing Unveils a Hidden Treasure
Over the span of ten years, the winemakers at Château Leoube embarked on an arduous journey of testing and experimentation to create a red wine that would showcase the pinnacle of their craft. Through countless trials and tribulations, they relentlessly pursued perfection, leaving no stone unturned in their pursuit of excellence.
Unveiling the Splendor
A Symphony of Flavors
Leoube Collector Grand Vin stands as a testament to the winemakers' unwavering commitment to their art. With each sip, this extraordinary wine unveils a symphony of flavors that dance on the palate. The intense nose greets you with a tantalizing aroma of black fruits, offering a glimpse into the sensory journey that lies ahead. As the velvety liquid touches your lips, the essence of black cherries lingers, adding depth and allure to the overall experience.
A Harmonious Fusion
The artistry of Leoube Collector Grand Vin lies in its ability to masterfully balance boldness and elegance. Each sip reveals the meticulous craftsmanship that has gone into its creation, presenting a wine that is both powerful and refined. The luscious black fruits intertwine with subtle hints of spice and earth, creating a symphony of flavors that harmonize with each other in perfect unison.
Limited Release, Infinite Delight
Leoube Collector Grand Vin is a truly limited release, making it a treasure sought after by connoisseurs and collectors alike. Its rarity adds to the allure, elevating the experience of indulging in this remarkable wine. The time and dedication invested in its creation make each bottle a testament to the winemakers' unwavering pursuit of excellence.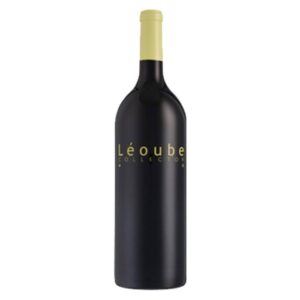 A Wine to Savor and Share
Unforgettable Moments
Leoube Collector Grand Vin is not just a wine; it is an invitation to create unforgettable moments. Whether you are celebrating a special occasion, enjoying a romantic evening, or simply savoring life's pleasures, this exceptional wine serves as the perfect companion. Its complex flavors and velvety texture elevate any experience, turning ordinary moments into extraordinary memories.
A Gift Worth Cherishing
For wine enthusiasts and collectors, Leoube Collector Grand Vin is a remarkable addition to any collection. Its limited availability and exceptional quality make it a sought-after gem that will be cherished for years to come. Whether it is a token of appreciation or a statement of refined taste, this wine is a gift that is sure to leave a lasting impression.
Embrace the Extraordinary with Leoube Collector Grand Vin
Leoube Collector Grand Vin transcends the realm of ordinary wines, standing as a testament to the dedication and passion of its creators. From its origins in the vineyards of Provence to the meticulous testing and maturation process, every step of its journey has been imbued with care and craftsmanship. With its magnificent maturation, intoxicating aroma of black fruits, and the alluring embrace of black cherries, this limited release red wine is a sensory delight that promises an unforgettable experience. Indulge in the splendor of Leoube Collector Grand Vin, and allow yourself to be transported to a world where exceptional flavors come together to create pure perfection.