[vc_row][vc_column width="1/2″][vc_column_text woodmart_inline="no" text_larger="no"]
Unveiling the Timeless Elegance of Portal del Alto Cabernet Sauvignon Premium 2003
Welcome to Wine Maven, where we invite you to embark on a sensory journey through the rich tapestry of exceptional wines. Today, we shine the spotlight on a true gem of oenological mastery: the exquisite Portal del Alto Cabernet Sauvignon Premium 2003. Prepare to be enchanted by its intense red ruby hue and captivated by its complex aromas that whisper tales of luscious fruits and delicate spices. In this comprehensive product description, we delve deep into the essence of this remarkable vintage, exploring its exceptional characteristics, aging potential, and the artistry involved in its creation.
Portal del Alto Cabernet Sauvignon Premium 2003: A Symphony of Flavors
Rich and Complex Aromas That Delight the Senses
The first encounter with Portal del Alto Cabernet Sauvignon Premium 2003 reveals a wine of remarkable depth and complexity. Its elegant aromas, carefully nurtured and developed over time, envelop the senses, evoking a symphony of red ripe fruits, black cherry jam, and cassis. With each inhalation, delicate spiced notes from the meticulous oak aging dance gracefully, adding an intriguing layer of refinement to this already captivating bouquet. As the aromas mingle and intertwine, anticipation builds for the grand symphony of flavors about to unfold.
A Wine of Substance and Structure
Once the wine caresses your lips, you are greeted by a revelation of body and texture. Portal del Alto Cabernet Sauvignon Premium 2003 boasts abundant tannins that elegantly intertwine with the senses, creating a harmonious balance of power and finesse. Its fine persistence on the palate leaves a lasting impression, as each sip unfolds a delightful tale of depth and character. This is a wine that embraces the art of balance, showcasing a structure that will only further evolve and mature over the next eight years when cellared with care.
Decanting the Unspoken Secrets
To fully embrace the grandeur of Portal del Alto Cabernet Sauvignon Premium 2003, a moment of patience and preparation is required. This wine is a testament to time, and as such, it benefits from the graceful act of decanting. As you pour the wine, the transformation begins. The symphony of aromas intensifies, and the flavors awaken, gradually revealing the true essence of this extraordinary vintage. To enhance the oxygenation process, allowing the wine to fully express itself, we recommend decanting. Be aware that natural sediments from the wine's own journey may be present, a testament to its integrity and natural evolution.
Embracing the Art of Aging
A Vintage Worth Savoring
The Portal del Alto Cabernet Sauvignon Premium 2003 is a wine of exceptional concentration, a true embodiment of the passion and expertise of its creators. Its rich flavors and pronounced tannins lay the foundation for a wine that thrives when granted the gift of time. As the years pass, this vintage will continue to evolve, revealing new dimensions and nuances with every passing season. By cellaring this wine for up to eight years, you will witness a metamorphosis, a transformation of flavors that will reward your patience and deepen your appreciation for the artistry captured within each bottle.[/vc_column_text][/vc_column][vc_column width="1/2″][vc_column_text woodmart_inline="no" text_larger="no"]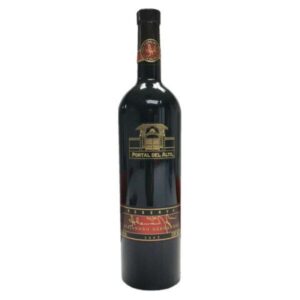 Where Tradition Meets Innovation
Crafting a wine of this caliber requires a perfect blend of tradition and innovation. The vintners behind Portal del Alto Cabernet Sauvignon Premium 2003 embrace the wisdom of the past while incorporating modern techniques to coax out the wine's full potential. The result is an exquisite symphony of flavors that harmonize with precision, reflecting the dedication and expertise of the winemakers. Each bottle tells a tale of generations of knowledge passed down through time, culminating in a moment of pure indulgence for every wine connoisseur.
Embrace the Extraordinary with Portal del Alto Cabernet Sauvignon Premium 2003
In the realm of fine wines, few experiences compare to the sheer elegance and depth offered by Portal del Alto Cabernet Sauvignon Premium 2003. From the moment you lay eyes on its intense red ruby color to the last lingering notes on your palate, this vintage transcends time and transports you to a realm of unrivaled pleasure. With its complex aromas, exceptional structure, and the promise of a timeless journey through the art of aging, this is a wine that demands to be savored. Allow yourself the pleasure of unlocking its unspoken secrets, and embrace the extraordinary with each sip of Portal del Alto Cabernet Sauvignon Premium 2003.[/vc_column_text][/vc_column][/vc_row]