[vc_row][vc_column width="5/6″][vc_column_text woodmart_inline="no" text_larger="no"]
Discover the Essence of Chateau Cote de France
Unveiling the Rich Heritage of Chateau Cote de France
Welcome to the world of Chateau Cote de France, where passion meets excellence. Prepare to embark on a sensory journey that will transport you to the enchanting region of AOC Côtes du Marmandais in France. Nestled in the picturesque South West of France, this exquisite wine reflects the essence of its terroir, a true masterpiece crafted by nature itself. Allow us to introduce you to the allure and complexity of Chateau Cote de France.
Unveiling the Wonders of Chateau Cote de France
Region: AOC Côtes du Marmandais, France
Experience the beauty of AOC Côtes du Marmandais, an esteemed wine region that harmoniously combines tradition and innovation. Situated in the captivating South West of France, it lies along the banks of the Garonne river. The fertile soil, composed of clay and limestone, imparts unique characteristics to the grapes, infusing the wine with unparalleled depth and flavor. It is here that Chateau Cote de France takes root, embodying the essence of this remarkable terroir.
Grape Variety: A Symphony of Merlot and Malbec
At the heart of Chateau Cote de France lies a harmonious blend of 92% Merlot and 8% Malbec, expertly cultivated to perfection. The Merlot grapes bring forth a luscious richness, while the Malbec adds a touch of intrigue. Together, they create a symphony of flavors that dance upon the palate, leaving a lasting impression.
The Captivating Symphony of Tasting Notes
Delve into the Sublime Complexity
As you pour a glass of Chateau Cote de France, you will be greeted by a mesmerizing garnet color that captures the essence of sophistication. The intoxicating aroma of ripe black cherries mingles with delicate hints of liquorice and spices, enthralling your senses with each delicate swirl. With every sip, your taste buds will be caressed by the silky tannins, revealing a wine that is both quaffable and voluminous. The freshness of Chateau Cote de France imparts a delightful length, accompanied by notes of stewed fruits, tantalizing spices, and a subtle touch of chocolate.
The Perfect Pairing
Chateau Cote de France is a versatile companion, complementing an array of culinary delights. Its elegance and finesse make it an excellent choice to accompany white meats, enhancing the flavors of each bite. Alternatively, it can be savored as an aperitif, setting the stage for a memorable dining experience. The possibilities are endless, and the choice is yours.
Experience the Pleasure: Serving and Enjoyment
The Optimal Temperature for Delight
To fully appreciate the wonders of Chateau Cote de France, serve it at a temperature between 16°C and 18°C. This allows the wine to reveal its full potential, showcasing the intricate layers of flavors and aromas that make it truly exceptional. Savor each sip as you embark on a voyage of pleasure and discovery.
A Masterpiece Unveiled
Unlocking the Essence of Chateau Cote de France
In the realm of wine, few can rival the allure of Chateau Cote de France. This remarkable creation captivates the senses, offering a glimpse into the enchanting world of AOC Côtes du Marmandais. From the vineyards nurtured by the Garonne river to the meticulous craftsmanship of the winemakers, every drop of Chateau Cote de France encapsulates a rich heritage that spans generations. Indulge in the symphony of flavors, savor the artistry, and allow Chateau Cote de France to transport you to a realm where excellence and pleasure intertwine. Elevate your wine experience with Chateau Cote de France – an embodiment of elegance, tradition, and undeniable allure.[/vc_column_text][/vc_column][vc_column width="1/6″][vc_column_text woodmart_inline="no" text_larger="no"]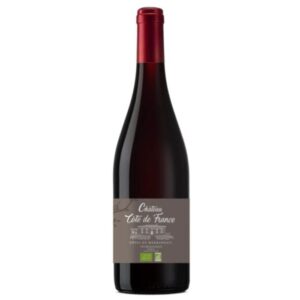 Region 地區
AOC Côtes du Marmandais, France 瑪蔓戴斯產區, 法國
Location 地理位置
South West of France, at the border of the hillside of Garonne river.
Clay and limestone soil.
法國西南部,靠近加龍河, 黏土及石灰岩土壤
Grape Variety 葡萄品種
92% Merlot 梅洛, 8% Malbec 馬爾貝克
Tasting Notes 酒評
Garnet Colour. The nose shows ripe black cherry with liquorice and spices nuances. The mouth presents a pretty quaffable and a nice volume with its silky tannins. The freshness of this wine gives it a nice length supported by stewed, spicy and chocolated notes.
石榴顏色。有成熟的黑櫻桃、甘草、辛香料的味道。口感柔滑,單寧柔順,亦有些朱古力味。
Food Pairing 配襯食品
White meats or as aperitif.
白肉,或作餐前酒
Service 飲用溫度
16° – 18°C[/vc_column_text][/vc_column][/vc_row]