Discover the Organic Elegance of Terre d'Abouriou
A Wine Maven Selection
Welcome to Wine Maven, where we pride ourselves on curating exceptional wines that embody craftsmanship and character. In this product description, we invite you to indulge in the exquisite Terre d'Abouriou (Organic) – a wine that effortlessly combines tradition and innovation. With its dark and deep robe, tantalizing aromas, and harmonious balance, this wine promises a sensory journey unlike any other. Let us delve into the rich tapestry of flavors and explore the story behind this remarkable creation.
Terre d'Abouriou: Unveiling the Essence of France
Region and Location
Terre d'Abouriou hails from the enchanting AOC Côtes du Marmandais region, nestled in the South West of France. Located at the border of the hillside of the Garonne river, this picturesque terroir basks in the perfect conditions for cultivating exceptional grapes. The clay and limestone soil imparts distinctive qualities to the vineyards, contributing to the wine's unique character and expression.
Grape Variety: A Symphony of Abouriou and Merlot
Crafted with utmost precision, Terre d'Abouriou harmonizes two magnificent grape varieties – 90% Abouriou and 10% Merlot. This masterful blend brings forth a symphony of flavors that captivates the senses. The Abouriou grape, renowned for its lusciousness, merges effortlessly with the elegance of Merlot, resulting in a wine that strikes the perfect balance between power and freshness.
Unleashing the Sensory Delights
Aroma and Palate: A Symphony of Flavors
Terre d'Abouriou entices from the moment it meets your senses. Its dark and deep robe hints at the opulence that awaits. As you approach the glass, a gourmand and explosive nose unfolds, revealing a captivating blend of red and black fruits. Succulent blackcurrants and juicy raspberries dance harmoniously, accompanied by subtle notes of spice and refreshing menthol.
The wine's enchanting aromas pave the way for a truly captivating tasting experience. On the palate, Terre d'Abouriou reveals its true allure – a harmonious fusion of power and freshness. Fine tannins provide a sturdy frame, supporting the wine's remarkable structure. The journey culminates in a delightful spicy point, elevating the final notes and leaving a lasting impression.
A Perfect Harmony: Pairings and Service
Food Pairing: A Culinary Adventure
Terre d'Abouriou invites you to embark on a culinary adventure, enhancing a wide array of dishes with its versatile nature. Indulge in the robust flavors of beef or succulent duck, allowing the wine's complexity to complement and elevate these meaty delights. For those with an affinity for spice, Terre d'Abouriou gracefully pairs with spicy dishes, creating a symphony of flavors on the palate. Additionally, the wine's character shines alongside charcuterie, enhancing the savory experience.
Service: Unleashing the Optimal Enjoyment
To fully appreciate the nuances of Terre d'Abouriou, we recommend serving it at a temperature of 16 – 18°C. This ideal range ensures that the wine's flavors are perfectly balanced, allowing you to savor every note and texture. Prepare to embark on an extraordinary journey with Terre d'Abouriou, where each sip reveals a new layer of complexity.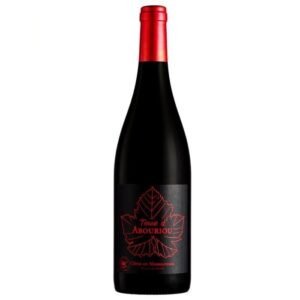 An Unforgettable Encounter with Terre d'Abouriou
Elevate Your Wine Experience with Terre d'Abouriou
Terre d'Abouriou (Organic) stands as a testament to the artistry and passion of winemaking. From its origins in the sun-kissed vineyards of AOC Côtes du Marmandais to its remarkable blend of Abouriou and Merlot, this wine encapsulates the essence of France's winemaking heritage. With its dark and deep robe, tantalizing aromas of red and black fruits, and a captivating interplay between power and freshness, Terre d'Abouriou promises an unforgettable encounter for wine enthusiasts.
Discover the magic of Terre d'Abouriou – a wine that transcends boundaries, creates moments of pure bliss, and elevates your wine experience to new heights. Indulge in this organic masterpiece and unlock the symphony of flavors that await within each bottle. Cheers to the journey that lies ahead!
Terre d'Abouriou (Organic)
Region 地區
AOC Côtes du Marmandais, France 瑪蔓戴斯產區, 法國
Location 地理位置
In the South West of France, at the border of the hillside of Garonne river.
Clay and limestone soil.
法國西南部,靠近加龍河,黏土及石灰岩土壤
Grape Variety 葡萄品種
90% Abouriou, 10% Merlot
90% 阿布修, 10% 梅洛
Tasting Notes 酒評
Dark and deep robe. Nose of gourmand and explosive, on red and black fruits, such as blackcurrant and raspberry, and on spicy and menthol notes. Balanced between power and freshness. Supported by a frame of fine tannins. The final is enhanced by a spicy point
接近暗黑的深紅色,出位的紅與黑色果香,例如黑加侖子及紅桑子等,還有香料及薄荷味,繼 而是強勁的單寧
Food Pairing 配襯食品
Beef, duck but also spicy dishes and charcuterie 烤肉和肉醬汁
Service 飲用溫度
16 – 18°C