Unveiling the Exquisite: Charles Baur Gewurztraminer Alsace AOC 2018
Imagine yourself in the serene vineyards of Alsace, France, where the delicate art of winemaking has been mastered for centuries. Amidst the breathtaking landscapes, a remarkable creation awaits your senses: the Charles Baur Gewurztraminer Alsace AOC 2018. This exceptional wine is a true embodiment of elegance, combining the region's rich heritage with the finest grape variety and meticulous craftsmanship. Join us on a delightful journey as we explore the captivating allure of this Gewurztraminer, renowned for its unique characteristics and captivating taste.
Region and Controlled Appellation
A Glimpse of Alsace, France's Wine Paradise
Nestled in the enchanting region of Alsace, France, this Gewurztraminer originates from a land steeped in winemaking tradition. Alsace, known for its picturesque beauty, is home to rolling hills, sun-drenched vineyards, and a climate ideally suited for viticulture. With a harmonious blend of continental and maritime influences, the region blesses us with wines of exceptional quality and character. The Charles Baur Gewurztraminer Alsace AOC 2018 proudly bears the coveted Appellation d'Origine Contrôlée (AOC) designation, which guarantees the wine's authenticity, origin, and adherence to strict winemaking standards.
Grape Variety and Tasting Note
A Symphony of Aromas and Flavors: Gewurztraminer Unleashed
Immerse yourself in a sensory voyage as you uncork the Charles Baur Gewurztraminer Alsace AOC 2018. This exceptional wine greets you with an irresistible bouquet of roses, lychees, and tantalizing candied fruit. With each sip, the wine reveals its harmonious nature, boasting a rounded mouthfeel and a remarkable balance that captivates the palate. The generosity of flavors lingers, leaving a lasting impression that is simply unforgettable.
Whether enjoyed as an aperitif or paired with gastronomic delights, this Gewurztraminer is a culinary companion par excellence. Picture yourself indulging in the wine's symphony of aromas as you savor the delicate foie gras, each bite elevated by the wine's enchanting presence. The spice lovers among us will rejoice as this Gewurztraminer complements bold, flavorful dishes with its innate versatility. When seeking the perfect match for strong cheeses like Roquefort or Munster, look no further than this exceptional wine, as it harmonizes beautifully, creating an explosion of taste sensations.
Wine Making and Maturation
A Meticulous Craft: From Vineyard to Bottle
The journey of the Charles Baur Gewurztraminer Alsace AOC 2018 begins with the careful extraction of the grapes through pneumatic pressure. This gentle process ensures that the full essence of the Gewurztraminer grape is captured, preserving its distinct aromas and flavors. The slow fermentation that follows is meticulously controlled, allowing the wine to develop its character with precision.
Maturation is a vital stage in crafting this exceptional wine. Over a span of nine months, the wine rests on fine lees, acquiring depth and complexity. This patient nurturing results in a wine that exudes sophistication and refinement. Finally, the wine finds its way into the bottle, ready to be savored and celebrated by those who appreciate the artistry behind every sip.
Embark on an Extraordinary Journey with Charles Baur Gewurztraminer Alsace AOC 2018
The Charles Baur Gewurztraminer Alsace AOC 2018 is more than a wine; it's an invitation to embark on a sensory adventure. From the captivating region of Alsace, France, this wine captivates with its aromatic symphony, well-balanced nature, and generous flavors. Whether enjoyed on its own or paired with exquisite dishes, it offers an experience that is both refined and unforgettable.
Indulge in the essence of Alsace, where generations of winemakers have perfected the art of creating exceptional wines. Let the Charles Baur Gewurztraminer Alsace AOC 2018 transport you to this enchanting realm, where passion meets tradition in every bottle. Elevate your moments of celebration, gather your loved ones, and savor this remarkable wine, knowing that you are partaking in a centuries-old legacy of winemaking excellence. Cheers to the Gewurztraminer Alsace AOC, an embodiment of finesse, complexity, and the true essence of Alsace.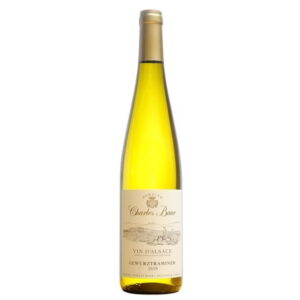 Region 地區
Alsace, France 亞爾薩斯, 法國
Controlled Appellation 地理位置
AOC
Grape Variety 葡萄種類
100% Gewurztraminer
Tasting Note 酒評
A wine displaying aromas of roses, lychees and candied fruit. It is round in the mouth, well-balanced and generous of taste. Delicious as an aperitif, this wine also is perfectly suited to foie gras, spicy dishes or strong cheese such as Roquefort or Munster.
Wine Making 製造程序
Extraction through pneumatic pressure of whole grapes, slow fermentation with close temperature regulation. Maturation with fine lees takes place over a nine month period after which time the wine is bottled.