[vc_row][vc_column width="5/6″][vc_column_text woodmart_inline="no" text_larger="no"]
Charles Baur Riesling Alsace AOC 2019: Discover the Essence of Alsace
Region and Appellation
Region: Alsace, France Appellation: AOC
When it comes to exquisite wines, Alsace, France is a region that consistently stands out. Its unique terroir, nestled in the northeastern part of the country, creates an exceptional environment for grape cultivation. Among the remarkable wines that this region produces, the Charles Baur Riesling Alsace AOC 2019 truly shines.
Embrace the Beauty of Riesling
Grape Variety: 100% Riesling
Riesling, renowned for its elegance and versatility, takes center stage in this exceptional offering. Crafted exclusively from 100% Riesling grapes, this wine captures the essence of the varietal with its remarkable depth of flavor and characteristic aromatic profile.
Tasting Note: A Symphony of Aromas and Flavors
A Bouquet that Delights the Senses
On the nose, this enchanting Riesling reveals a delicate interplay of floral characteristics and the vibrant essence of citrus fruits. The aromas dance gracefully, offering a tantalizing invitation to indulge in the sensory journey that awaits.
A Symphony of Refreshing Delights
On the palate, the Charles Baur Riesling Alsace AOC 2019 truly comes alive. From the first sip, you'll experience a refreshing burst of crispness that invigorates the senses. The flavors of grapefruit and lime intertwine, creating a harmonious melody of zesty citrus notes that dance on your taste buds.
A Well-Balanced Treasure
This Riesling's appeal extends beyond its invigorating flavors. Dry and well balanced, it boasts an attractive minerality that adds depth to its character. With a captivatingly long finish, this wine leaves an indelible impression, inviting you to savor each moment.
Wine Making: A Journey of Excellence
Unveiling the Artistry Behind Each Bottle
The creation of the Charles Baur Riesling Alsace AOC 2019 is a testament to the meticulous wine-making process employed by the winemakers at Charles Baur. From vineyard to bottle, every step is carefully executed to preserve the integrity and complexity of the wine.
Preserving Nature's Essence
The journey begins with the gentle extraction of the grapes using pneumatic pressure, ensuring that only the finest juice is obtained. Slow fermentation follows, with close temperature regulation to maintain optimal conditions for flavor development.
Maturation, a Journey to Perfection
After fermentation, the wine undergoes a patient maturation process, resting on its fine lees for nine months. This maturation imparts additional nuances to the wine, enhancing its character and lending a delightful complexity to its flavor profile.
Pairing Suggestions: Enhancing Culinary Delights
To truly appreciate the magnificence of the Charles Baur Riesling Alsace AOC 2019, it's essential to pair it with dishes that complement its unique qualities. Here are some delectable suggestions to elevate your dining experience:
Indulge in the delicate flavors of fish and seafood, as this Riesling beautifully harmonizes with their natural essence.
Explore the classic pairing of sauerkraut, where the wine's vibrant acidity cuts through the richness, creating a symphony of flavors.
Embark on a culinary adventure with escargot and frogs' legs, as their delicate textures and subtle flavors find harmony with the wine's finesse.
Elevate poultry dishes cooked in a Riesling sauce, where the wine's elegant profile adds a touch of sophistication to the ensemble.
Unveiling the Magic of Charles Baur Riesling Alsace AOC 2019
The Charles Baur Riesling Alsace AOC 2019 encapsulates the very essence of Alsace's winemaking mastery. From its enchanting aromas to its invigorating flavors, this wine presents a symphony of sensations that dance on the palate. With meticulous craftsmanship and a well-balanced character, it invites you to embark on a journey of indulgence.
Whether you're a connoisseur or an adventurous wine enthusiast, this Riesling is sure to captivate your senses and leave an everlasting impression. Embrace the magic of Alsace with the Charles Baur Riesling Alsace AOC 2019, and savor the exquisite moments it brings to every occasion.[/vc_column_text][/vc_column][vc_column width="1/6″][vc_column_text woodmart_inline="no" text_larger="no"]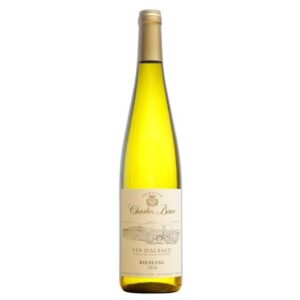 Region 地區
Alsace, France 亞爾薩斯, 法國
Controlled Appellation 地理位置
AOC
Grape Variety 葡萄種類
100% Riesling
Tasting Note 酒評
On the nose, this wine displays floral characteristics together with those of citrus fruit. On the palate, and in addition to being fresh and crisp, this wine has elements of grapefruit and lime. Our "Riesling Tradition" is dry and well balanced, possessed of an attractive minerality and a long finish. Best enjoyed with fish, seafood, sauerkraut, snails, frogs' legs or poultry cooked in a Riesling sauce.
Wine Making 製造程序
Extraction through pneumatic pressure of whole grapes, slow fermentation under close temperature regulation. Maturation with fine lees takes place for nine months after which time the wine is bottled.[/vc_column_text][/vc_column][/vc_row]