Escarpment Kiwa Single Vineyard Pinot Noir 2018: A Taste of Pure Elegance
Unveiling the Essence of Escarpment Kiwa Single Vineyard Pinot Noir 2018
Indulge your senses in the captivating symphony of flavors offered by the remarkable Escarpment Kiwa Single Vineyard Pinot Noir 2018. Crafted with passion and expertise, this wine showcases the finest qualities of the Cleland Vineyard Cambridge Road in Martinborough, where 31-year-old vines flourish under the watchful gaze of experienced winemakers.
The Birth of a Sensation
A Harmonious Blend of Soil and Clone
Nestled within the Martinborough Terraces, this exceptional Pinot Noir emerges from a combination of deep alluvial gravels that the region is renowned for. The marriage of Clones UCD 5 and 6 results in a wine that tantalizes the palate with its savory complexity and intriguing spiciness. Each sip is a testament to the meticulous care invested in cultivating this masterpiece.
A Journey of Artisanal Creation
An Authentic Fermentation Process
True to its heritage, the Escarpment Kiwa Single Vineyard Pinot Noir 2018 undergoes open-top fermentation in traditional wooden cuvees, allowing the indigenous yeast to work its magic. With each gentle plunge by hand, performed every 12 hours, the wine evolves gracefully over 21 days, revealing its depth and character.
A Maturation in Oak
To enhance its exquisite profile, this remarkable vintage is matured for 18 months in 40 new French oak barriques. As the wine breathes within this rich environment, it absorbs the oak's subtle nuances, infusing the liquid with a touch of elegance and complexity.
Unveiling a Symphony of Flavors
An Unfiltered Delight
Embracing its natural essence, this single vineyard Pinot Noir is bottled without filtration. By doing so, the wine preserves its delicate nuances and offers a silky mouthfeel that captivates the senses. Each sip reveals a tapestry of flavors, enticing the palate with its softness and depth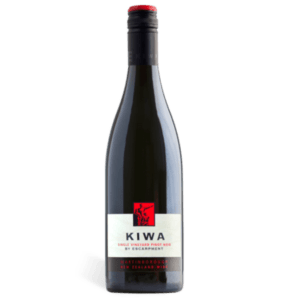 .
The Quintessence of Pinot Noir
An Exemplary Expression of Perfection
Distinguished and extraordinary, the Escarpment Kiwa Single Vineyard Pinot Noir 2018 stands as a true testament to the art of winemaking. With its rich, vibrant red hue and alluring aromas, it sets the stage for an unforgettable sensory experience. From the first sip to the last, this wine showcases the essence of classic Pinot Noir with grace, balance, and finesse.
A Promise of Timeless Enjoyment
While undeniably captivating in its youth, this remarkable vintage has even more to offer with the passage of time. With careful cellaring, it will continue to develop and evolve over the next decade, rewarding those patient enough to savor it. Whether enjoyed alongside hearty game dishes or cherished on its own, this wine is an exceptional companion for those seeking true vinous pleasure.
A Testament to Craftsmanship and Dedication
In the realm of exceptional Pinot Noir, the Escarpment Kiwa Single Vineyard Pinot Noir 2018 reigns supreme. From the moment it graces your glass, to the lingering notes that dance upon your palate, this wine transcends ordinary boundaries. Embark on a sensory journey, where elegance meets complexity, and indulge in the magic of a truly remarkable creation. Allow this exquisite vintage to be your guide, transporting you to a world of pure vinous delight.