The Perfect Blend of Style and Comfort
Introducing the 3/4 Sleeve Raglan Shirt – "Life Happens. Wine Helps."
Are you on the lookout for a fashion piece that effortlessly combines style, comfort, and a touch of personality? Look no further! Our 3/4 Sleeve Raglan Shirt – "Life Happens. Wine Helps." is here to make a statement. With its unique design and high-quality materials, this shirt is bound to become your new favorite wardrobe staple. Whether you're a wine enthusiast or simply appreciate clever slogans, this raglan shirt is a must-have.
Unmatched Comfort and Durability
Embrace Ultimate Softness with the Perfect Blend
Crafted with utmost care, this raglan shirt brings together the best of both worlds – style and comfort. The secret lies in its poly-cotton blend, made of 50% polyester and 50% combed cotton. This combination ensures an incredibly soft and lightweight feel against your skin, allowing you to enjoy unrivaled comfort all day long. Say goodbye to stiff and scratchy materials and embrace the blissful coziness of this premium shirt.
A Perfect Fit for All Seasons
Whether you're heading out for a summer stroll or cozying up indoors during colder months, this 3/4 sleeve raglan shirt is a versatile choice. The ¾ sleeve length offers just the right amount of coverage to keep you comfortable in changing weather conditions. From spring to fall, this shirt effortlessly transitions with you, making it an ideal year-round companion.
Designed for Lasting Wear
When it comes to durability, we don't compromise. This raglan shirt is expertly constructed with a ribbed neckband that ensures a secure fit and long-lasting shape retention. No more worries about loose threads or stretched-out collars. Made in the USA and sweatshop-free, this shirt meets the highest standards of quality, so you can enjoy it for years to come.
A Fashion Statement That Speaks for Itself
Express Your Love for Wine with Style
The 3/4 Sleeve Raglan Shirt – "Life Happens. Wine Helps." is more than just a piece of clothing; it's a statement that resonates with wine lovers around the world. With its bold slogan emblazoned across the chest, this shirt effortlessly captures the essence of enjoying life's moments and finding solace in a glass of wine. It's an invitation to embrace the joys and laughter life brings, knowing that a sip of wine can be the perfect companion.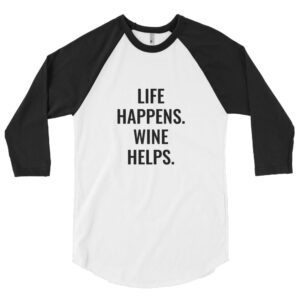 Stand Out from the Crowd
Tired of blending in with the crowd? This raglan shirt is here to ensure you make a memorable impression. Its eye-catching design and vibrant colors immediately draw attention, sparking conversations and piquing curiosity. Whether you're heading to a casual gathering or simply running errands, this shirt guarantees you'll stand out as a fashion-forward individual with a flair for expressing your unique personality.
Versatility Meets Effortless Style
Pairing fashion with functionality, this raglan shirt effortlessly complements a variety of outfits and occasions. Dress it up with a chic skirt and heels for a touch of casual elegance, or go for a relaxed look by combining it with your favorite jeans and sneakers. With its timeless design and versatile appeal, this shirt easily adapts to your personal style, making it a wardrobe essential for any fashion-savvy individual.
Embrace the Charm of the 3/4 Sleeve Raglan Shirt
Make a Statement with Unparalleled Comfort and Style
In conclusion, the 3/4 Sleeve Raglan Shirt – "Life Happens. Wine Helps." is the epitome of fashion meeting comfort. Its poly-cotton blend offers unmatched softness and durability, ensuring you'll feel great wearing it day after day. Whether you're a wine enthusiast or simply appreciate a touch of humor in your wardrobe, this shirt lets you express your personality with flair. Stand out from the crowd, embrace the joys of life, and indulge in the perfect blend of style and comfort with this exceptional raglan shirt.