A Crop Tee That Celebrates Life and Wine
Discover the Perfect Wardrobe Essential: The 'Crop Tee – "Life Happens. Wine Helps."'
Life is full of moments that deserve to be cherished and celebrated, and what better way to do so than with a trendy and stylish crop tee? Introducing our exclusive 'Crop Tee – "Life Happens. Wine Helps."' – a versatile fashion piece that combines comfort, fashion, and a touch of humor. Crafted with care and designed to perfection, this crop tee will effortlessly elevate your wardrobe and make a statement wherever you go.
Unveiling the Perfect Fit and Eye-Catching Design
Quality Fabric for Unmatched Comfort and Durability
We understand that finding the ideal fit is crucial when it comes to clothing, which is why our 'Crop Tee – "Life Happens. Wine Helps."' is meticulously printed and sewn to flatter your figure flawlessly. Made from a premium knit mid-weight jersey, this crop tee offers a delightful blend of softness and breathability, ensuring optimum comfort throughout the day. With its four-way stretch fabric, it effortlessly adapts to your body, stretching and recovering along the cross and lengthwise grains.
A Design Worth Flaunting
The charm of this crop tee lies in its captivating all-over design, specifically created to turn heads and spark conversations. The bold and playful print proudly showcases the phrase "Life Happens. Wine Helps." – a testament to the power of wine in bringing joy and relaxation to our lives. Whether you're enjoying a laid-back evening with friends or attending a casual get-together, this crop tee will effortlessly express your love for life's simple pleasures.
Superior Craftsmanship and Sourcing
Attention to Detail: Fit and Style
Our 'Crop Tee – "Life Happens. Wine Helps."' is thoughtfully crafted with meticulous attention to detail. The regular fit ensures a flattering silhouette for various body types, making it an inclusive and versatile fashion choice. You can confidently pair it with your favorite high-waisted jeans, skirts, or shorts, creating endless possibilities for stylish and effortless outfits.
Ethical and Responsible Sourcing
At Wine Maven, we believe in sustainable and responsible practices. That's why the blank product components used in the United States and Mexico are sourced locally, supporting local businesses and reducing our environmental footprint. Similarly, in the European Union, the blank product components are sourced from Lithuania, aligning with our commitment to ethical production.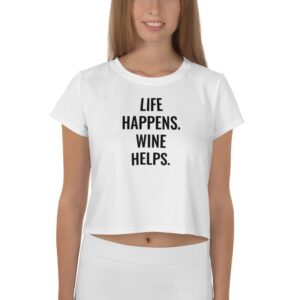 Embrace Life's Pleasures with the 'Crop Tee – "Life Happens. Wine Helps."'
Elevate Your Style with Confidence and Humor
In a world where fashion is an expression of individuality, the 'Crop Tee – "Life Happens. Wine Helps."' effortlessly stands out as a versatile wardrobe staple. Its perfect blend of comfort, style, and humor makes it an ideal choice for those who embrace life's simple pleasures and appreciate a good laugh. So, why wait? Add this captivating crop tee to your collection and let the world know that life is meant to be celebrated, and wine is always there to lend a helping hand.
Express Yourself and Spread Joy
When you slip into this crop tee, you're not just wearing a garment but also sharing a delightful message with the world. It's an invitation to celebrate life's ups and downs, to cherish the moments that make us smile, and to find solace in the company of good friends and a glass of fine wine. Get ready to turn heads, initiate conversations, and radiate positivity wherever you go – all while looking effortlessly stylish and embracing the joy that wine brings to our lives.