The Perfect Blend of Comfort and Style
Boxer Briefs: The Ideal Companion for Every Wine Maven
Are you ready to elevate your underwear game to a new level of comfort and style? Look no further than our incredible collection of Boxer Briefs – "Life Happens. Wine Helps." Designed with the discerning Wine Maven in mind, these boxer briefs are a must-have addition to your wardrobe. Crafted from a soft and stretchy material, they guarantee exceptional comfort throughout the day, ensuring that you can conquer any challenge that comes your way while enjoying the blissful companionship of wine.
Unmatched Comfort for Everyday Wear
Indulge in the Luxurious Feel
Our Boxer Briefs are carefully constructed with your utmost comfort in mind. The exceptional blend of 95% polyester and 5% elastane fabric creates a heavenly touch against your skin, offering a luxurious feel that you'll never want to take off. No matter how demanding your day may be, these boxer briefs provide the perfect combination of breathability and stretch, allowing you to move with ease and freedom.
Enhanced Support Where You Need It Most
Bid farewell to discomfort and welcome the supreme support offered by our Boxer Briefs. The lined front pouch is thoughtfully designed to provide additional support, ensuring everything stays comfortably in place throughout the day. Whether you're engaged in a rigorous workout, conquering deadlines, or simply enjoying a relaxing evening, these boxer briefs are there to offer you the reliable support you deserve.
Crafted with Precision and Attention to Detail
A Stylish Design to Complement Your Wine Maven Lifestyle
We understand that style matters just as much as comfort. The Boxer Briefs – "Life Happens. Wine Helps." embrace a sleek and modern design that effortlessly blends sophistication with a touch of humor. The 4 cm wide elastic waistband, covered with fabric, not only ensures a secure fit but also adds a touch of elegance. It proudly displays the words "Life Happens. Wine Helps." as a reminder of the power of wine to make every moment a little more enjoyable.
Impeccable Construction for Lasting Durability
When it comes to quality, we never compromise. Our Boxer Briefs feature meticulous craftsmanship, with overlock and coverstitching techniques employed to ensure every seam is strong and secure. Notably, the absence of a back seam contributes to their extraordinary comfort, eliminating any potential irritation or discomfort caused by seams. These boxer briefs are designed to be worn with confidence, day after day, wash after wash.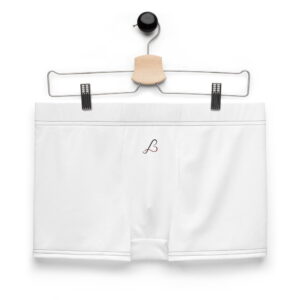 Sourced Responsibly for a Sustainable Future
Supporting Ethical Production Practices
At Wine Maven, we care about the environment as much as we care about your satisfaction. That's why the blank product components of our Boxer Briefs are sourced from Lithuania, adhering to strict standards of ethical production. By choosing our Boxer Briefs, you're not only treating yourself to unparalleled comfort and style but also contributing to a sustainable future.
Elevate Your Comfort and Embrace the Wine Maven Lifestyle
Experience the Unforgettable Blend of Comfort and Style
With our Boxer Briefs – "Life Happens. Wine Helps.," you can revel in the perfect blend of comfort, support, and style. These boxer briefs are designed to accompany you throughout your day, ensuring that you not only feel your best but also embrace the wine-loving spirit within you. Crafted with precision, attention to detail, and a touch of humor, these boxer briefs are a testament to the Wine Maven lifestyle. Elevate your comfort, indulge in luxurious materials, and let the world know that, indeed, life happens, but wine helps us savor every moment. Choose Wine Maven Boxer Briefs and discover a new level of underwear perfection.