Unveiling the "Life Happens. Wine Helps." Beach Towel
Life's unpredictable moments often call for a touch of comfort and a sip of relaxation. Introducing the "Life Happens. Wine Helps." Beach Towel, a vibrant and inviting accessory that encapsulates the essence of unwinding by the seaside. Crafted with care, this towel is designed to bring you coziness, style, and a hint of wine-induced tranquility.
Embrace the Beach with Unmatched Comfort
A Cozy Oasis in a Sea of Softness
Indulge in the plush embrace of this super-soft and cozy all-over sublimation Beach Towel. Measuring a generous 30″ x 60″, it offers ample space for you to stretch out and unwind under the sun or dry off after a refreshing dip in the ocean. Carefully crafted with a blend of 52% cotton and 48% polyester, this beach companion is a testament to comfort and durability.
Made with Care: Quality You Can Feel
Every detail of the "Life Happens. Wine Helps." Beach Towel has been meticulously considered to ensure an unrivaled experience. While the towel is made in China, rest assured that it is printed in the USA, showcasing a commitment to quality and craftsmanship. The vibrant design is flawlessly printed on one side, adding a touch of personality and style to your beach outings.
The Perfect Blend of Style and Functionality
Versatile Design for Every Adventure
Whether you're lounging under the sun, picnicking by the shore, or simply need a cozy companion at home, this beach towel is the perfect choice. Its eye-catching "Life Happens. Wine Helps." design serves as a reminder to embrace life's moments, both big and small. With its lively colors and engaging message, this towel is sure to turn heads and spark conversations wherever you take it.
Absorbent and Practical: A Towel That Works
While style is important, functionality should never be compromised. The "Life Happens. Wine Helps." Beach Towel strikes the perfect balance between fashion and utility. Its non-printed side features terry fabric, enhancing its water-absorbent properties. Say goodbye to damp discomfort and hello to a towel that not only looks great but also delivers on its promise of quick and efficient drying.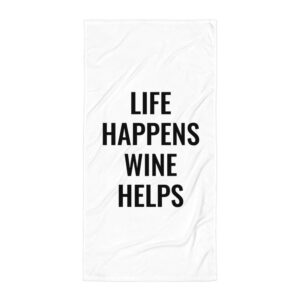 Wrap Yourself in Blissful Serenity
In a world filled with hustle and bustle, finding moments of serenity becomes paramount. The "Life Happens. Wine Helps." Beach Towel invites you to embrace life's joys, to bask in the sun's warm caress, and to relish in the simple pleasures. With its captivating design, exceptional comfort, and remarkable functionality, this beach towel becomes a cherished companion for creating memories and savoring the blissful moments that make life truly extraordinary.
Indulge in the luxurious softness of this beach towel, and let the soothing allure of "Life Happens. Wine Helps." transport you to a tranquil oasis by the water's edge. Whether you're lounging on sandy shores or lounging in the comfort of your own home, this towel ensures that every moment is a cozy and unforgettable one. So, wrap yourself in comfort, embrace the beach, and let this beach towel become an emblem of relaxation and enjoyment.