Discover the Perfect Companion: Enamel Mug – "Life Happens. Wine Helps."
Indulge in the joy of savoring your favorite beverage while embracing life's beautiful moments with the Enamel Mug – "Life Happens. Wine Helps." This remarkable mug, adorned with a heartfelt message, is designed to accompany you on all your adventures. Crafted with care and built to last, this lightweight and versatile mug is more than just a vessel for your drinks – it's a cherished accessory that celebrates life's journey.
The Enamel Mug – An Unparalleled Travel Companion
A Sturdy and Versatile Delight
Constructed from high-quality enamel, the Enamel Mug is a reliable companion for any happy camper or outdoor enthusiast. Its sturdy build ensures durability, allowing you to embark on exciting expeditions without worrying about fragile tableware. The mug's lightweight nature adds to its charm, making it effortlessly portable for your convenience. Whether you're enjoying a steaming cup of coffee in the morning or indulging in a heartwarming soup on a chilly evening, this mug is your go-to companion for all your culinary desires.
Dimensions and Design
With a height of 3.14″ (8 cm) and a diameter of 3.54″ (9 cm), the Enamel Mug offers a generous capacity to satisfy your thirst. Its thoughtfully designed shape allows for a comfortable grip, ensuring that you can enjoy your favorite beverage with ease. The mug's white coating beautifully complements its silver rim, exuding a timeless and classic aesthetic. Its elegant appearance makes it suitable for both everyday use and special occasions, adding a touch of sophistication to your beverage experience.
Experience the Enchantment
Unleash Your Creativity
The Enamel Mug serves as a versatile canvas for self-expression. Personalize it with meaningful stickers, inspiring quotes, or delightful doodles to reflect your unique personality. Whether you're a nature lover, an adventure seeker, or a wine connoisseur, this mug becomes an extension of your identity. Let your creativity flow as you transform this blank canvas into a cherished work of art.
Practicality Meets Style
Not only does the Enamel Mug radiate charm, but it also offers practical features that make it an essential companion. Its convenient size allows for easy attachment to your bag, ensuring quick access during hikes, picnics, or any on-the-go moments. Bid farewell to cumbersome drinkware and embrace the simplicity and functionality of this remarkable mug.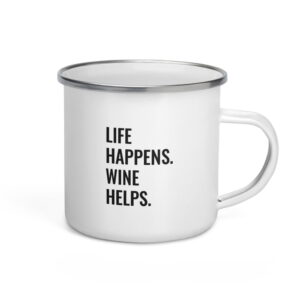 Care Instructions
To maintain the Enamel Mug's pristine condition, it is recommended to hand wash it with love. While this mug is designed to withstand the test of time, avoid heating liquids or food directly in it, as it may damage the coating. With proper care, this mug will accompany you on countless adventures, providing joy, comfort, and a touch of elegance to every sip.
Elevate Your Beverage Experience with the Enamel Mug – "Life Happens. Wine Helps."
The Enamel Mug – "Life Happens. Wine Helps." is more than just a drinking vessel; it's a statement piece that embodies the spirit of embracing life's moments. Whether you're embarking on a thrilling outdoor expedition or simply enjoying a quiet moment in your backyard, this mug will be there to accompany you. With its robust build, versatile design, and personalization potential, it encapsulates the perfect blend of style and functionality.
Indulge in the enchantment of sipping your favorite beverage from this charming mug, knowing that life happens, and wine truly helps. Elevate your everyday experiences and celebrate the journey with the Enamel Mug – the trusted companion that will accompany you on countless adventures, creating memories to cherish for a lifetime.